When it comes to diode laser machines, we think xTool makes the best on the market. Their D1 Pro is one of the most popular machines on the market, and it's the new and improved version of their D1 cutter. 
But how new and improved is it, really? In this guide, we'll look at the differences between the xTool D1 and D1 Pro, discuss why you should care, and ultimately decide which one is the better laser cutter.
As an owner of the xTool D1 Pro (I even got the upgraded 20W version, which I love!), I've deep-dived into the differences between the D1 and D1 Pro to give you all the info you need to make the right decision for your particular needs and budget. Either way though, xTool make some of the best laser engravers around, and I highly recommend the company.
Laser Power:

Can feature 5W, 10W, or 20W cutting head
Best Diode Laser
Laser Power:
Can feature 5W, 10W, or 20W cutting head
Some Quick Similarities Between the D1 and D1 Pro
Well, both of these tools are made and sold by xTool. They're both diode laser cutters, and they're among the most popular on the laser cutting market. You can use the xTool D1 or xTool D1 Pro for recreation, professionally, or for running a side business. 
You load in a file, set up your laser cutter, then let it get to work. They can handle cutting out pieces, engraving, and creating designs on parts. 
Differences Between xTool D1 and D1 Pro
To determine which laser cutter is the better option, we'll explain the differences between the two. Both of these are diode laser cutters from xTool, but there are plenty of factors that set them apart from each other.
Availability
Before anything else, we should mention that it's hard to get ahold of a new xTool D1 machine nowadays. xTool completely phased out production of the D1 laser cutter, so you'll have to buy them from a third party or second-hand.
Currently, only the D1 Pro and newer machines are offered on xTool's site. The D1 was released back in 2021, and it's been recently phased out.
This means that the availability of the D1 Pro is a lot better. You can buy one today and have it in no time. If you go for a D1, you might be waiting a while or dealing with a shady seller.
If you want to start laser cutting sooner, the D1 Pro is the better option – and your only option for buying new.
---
Laser Power
The original D1 only came with a 10W cutting head, which is the industry standard. The new D1 Pro can feature a 5W, 10W, or 20W laser cutting head — you choose how much power you want. 
It might seem like a subtle difference, but it can make a huge impact on your projects. A 20W laser will cut material two times faster than a 10W laser can. That's why we chose the 20W version for our hands-on review.
The laser spot of the 20W is a little bigger, so you'll lose a small amount of precision in exchange for faster and more reliable cuts. But, xTool's D1 Pro offers one of the best accuracies when compared to other 20W laser cutters.
The 20W laser on the D1 Pro can cut up to 10mm of basswood in a single pass, resulting in faster projects. Comparatively, the D1's 10W laser cutter can only cut about half as deep with each pass.
For deeper cuts and faster project completion times, the D1 Pro is the better option. 
---
Speed
xTool's engineers put an emphasis on speeding up their system as they upgraded from the D1 to the D1 Pro. As a result, the D1 Pro is a lot quicker.
The D1 has a routing speed of around 160 mm/s, and the D1 Pro has a routing speed of 400 mm/s. The routing speed refers to how quickly the head can move around and make a single pass, like how fast it can engrave a board.
Having a speed that's two times faster directly translates to finishing projects twice as fast. Instead of taking 60 minutes to finish your project with the standard xTool D1 laser cutter, the D1 Pro will finish it in 24 minutes.
That's not the end of the time savings. Since the D1 Pro's speed is more than double, and the cutting depth is about double, it's possible to cut your project time down more than fourfold. 
For faster project completion, you'll want the D1 Pro.
---
Working Area
The working area of the D1 Pro has shrunk slightly. It has reduced from 432 x 406mm, down to 430 x 400mm on the 5W and 10W options, and 430 x 390mm on the 20W machine.
Is this a huge deal? Not really. The difference is pretty small. It only works out to about a 2% size decrease on the 5W and 10W, and about a 5% size decrease on the 20W.
Plus, if you're craving a larger working area, you could grab the extension kit from xTool's catalog. This will increase the cutting area up to 936 x 400 (or 390) mm. 
In this case, the D1 and D1 Pro are about equal when it comes to the working area.
---
Material Options
A stronger laser can cut into harder and thicker materials.
Since the D1 Pro is much stronger than the D1, it can work with more materials and thicker stock materials. 
Your D1 Pro will be able to cut wood, leather, paper, acrylic, fabric, ceramic, glass, and stone. At 10W (rather than the stronger 20W option on the xTool D1 Pro), the xTool D1 may struggle more with engraving metals, ceramic, and stone, or with cutting thicker woods and acrylic sheets.
---
Added Sensors
The sensors on a laser cutter can make your life easier during any project. The D1 didn't come with a lot, but the D1 Pro has some valuable upgrades.
For one, the tool now has position sensors. These sensors are used to find out where the cutting head is, home the tool, and increase the precision of each cut. Before these sensors, the D1 was basically guessing where it was in space. It needed you to manually home the machine, and it assumed that you homed it perfectly each time.
Another new sensor will check for flatness across the machine. If the D1 Pro notices that it's sitting at an angle, it will stop cutting. If it were to keep cutting on a slanted table, your part would be a disaster — features wouldn't be square, cuts wouldn't go all the way through, and lines wouldn't be straight.
Why would the tool be slanted in the first place? Maybe someone bumped it during operation, one of the legs slipped, your table is slanted, or it wasn't set up correctly in the first place.
These added sensors and features improve the experience of working with an xTool D1 Pro. We think they make life a little easier every time you laser cut something.
---
Added Safety Features
There are also sensors that look for stray flames. If the D1 Pro notices that the part is burning, it will immediately stop and set off an alarm. Of course, this is a huge safety upgrade — especially if you typically leave your laser cutter running in a separate room without supervision.
---
Price
With all of these added features and upgrades, you might have guessed that the price will be different. The good news is that the D1 Pro is still very inexpensive compared to other cutters that have the same functionality.
The D1 sold for around $650 through xTool, and they offer the 10W D1 Pro for $700. If you upgrade to the 20W version, it's $1,200 — which is still very affordable based on its quality, cutting speed, and power. Compared to comparable 20W laser cutters on the market, $1,200 is almost unbelievable. 
Even though the D1 Pro is a little more expensive than the D1, the added features and upgrades are well worth it. You can either buy the laser with rotary attachment as a bundle, or purchase the RA2 rotary chuck separately for engraving rounded objects like beakers and glasses.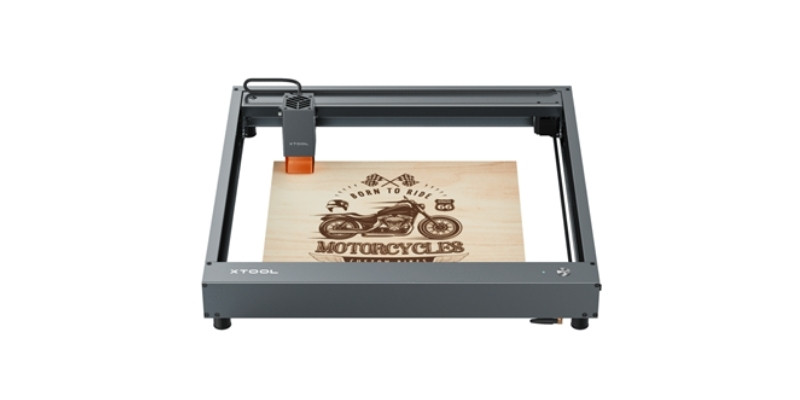 We earn a commission if you make a purchase, at no additional cost to you.
---
Which Is the Better Laser Cutter?
Between the D1 and D1 Pro, which laser cutter is the best? Well, the D1 Pro is stronger, faster, more readily available, has more sensors, and works on more materials. With that said, it seems fair to say that the D1 Pro is the much better laser cutter.
The D1 was a respectable laser cutter during its time, but it's been phased out and obsoleted thanks to how great the D1 Pro is.
Either of these options from xTool is great, but it's definitely worth the extra $50 to get the new-and-improved xTool D1 Pro. You'll enjoy faster projects and working with a wider variety of materials.
Laser Power:

Can feature 5W, 10W, or 20W cutting head
Best Diode Laser
Laser Power:
Can feature 5W, 10W, or 20W cutting head
What to Do Next
Now that you understand why the xTool D1 Pro is so great, consider picking one up today. Be sure to check out the added accessories and upgrades that can make your tool even better. With this tool in your shop, you can tackle a ton of different projects.
Related articles: