How Much Does a Laser Cutter Cost? (Explained)

At CNCSourced, we're a team from across the world, united by our passion for everything CNC, laser cutting, and more! We try to publish at least once per week, and we're always up for talking anything DIY and making! Altogether we've written over 150 technical guides, from how to wire stepper motors, to brand-new ways to CNC carve granite with $5. You can read more about us on our about page.
Depending on the type of laser, its power, speed, precision, and other factors, the cost of a laser cutter can range from under $200 to over $100,000.
In this article, I'll give you the full run-down based on my experience buying and operating laser cutters for what you should expect to pay when buying a laser engraver for your particular needs.
So, if you're wondering just how much does a laser cutter cost, this guide covers everything you need to know. We'll take a look at diode, CO2, and fiber laser price ranges, and explain what you can get in terms of power, speed, and working area for different budgets.
What is the average price of a laser cutter?
The cheapest laser cutters start at just $200, though decent beginner options start from around $500, and are usually diode lasers with around 10W of power, with good small business CO2 lasers costing up to around $7,000. However, CO2 and fiber lasers designed for industrial purposes can cost tens and even hundreds of thousands of dollars.
Laser Cutter Price Guide – What to expect in every price range
The cheapest lasers: under $2000
While everyone's meaning of "cheap" is different, in this article I'll define it as machines costing under $2,000. Lasers in this price range are best for beginners and casual hobbyists.
Of course, $2,000 may seem pretty expensive, and there are many decent lasers under $1,000. But you need to be careful if you're looking for the cheapest laser machine cost possible, as you still need to ensure you're getting decent quality.
You can get extremely cheap laser cutters on sites like Amazon for $200, but these budget machines don't offer the same kind of durability or quality.
In general, we'd say the cost of a reliable laser cutter from decent brands starts at $300. For example, the Atomstack A5 Pro is a popular beginner laser engraver that retails for around $349.
The average laser machine price for a high-quality yet affordable diode laser model is between $500-$800.
Perhaps the best example is the xTool D1 Pro, which starts from $699 (for the 10W model) and has gained a reputation as one of the top hobbyist laser engravers. At CNCSourced we've tested the 20W version which is excellent, and costs around $1200. I personally think the xTool D1 Pro is the best diode laser engraver.
Best diode pick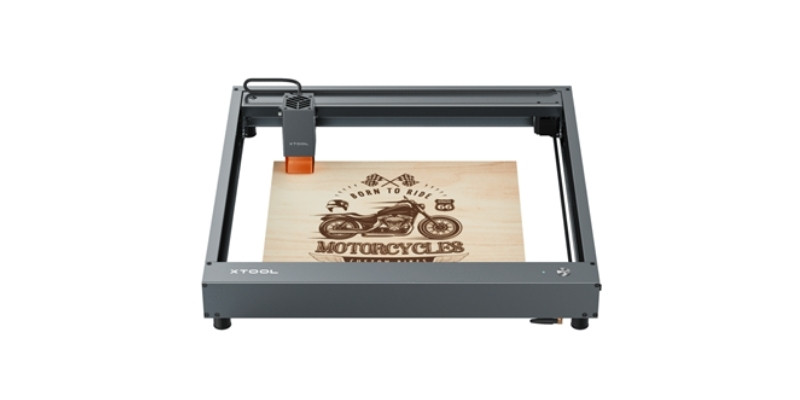 We earn a commission if you make a purchase, at no additional cost to you.
Most cheap laser cutters in the $200-$2,000 price range are diode laser engravers, which are the cheapest and weakest type of laser.
Diodes are suitable for cutting and engraving soft materials, including acrylic and wood, but they don't cut as deep as CO2 lasers, and can't engrave metals like fiber and infrared lasers. Although, the D1 Pro is one of very few low-cost laser cutters that allows you to upgrade to an infrared module.
Most lasers under $1,000 come with a 5W or 10W module. 20W diode modules are obviously more expensive – the 20W D1 Pro I tested is more than twice the cost of the 10W at $1,200+, for example. Similarly, the Atomstack A20 Pro costs around $1,160.
You don't usually see 30W or higher diodes on the market – if you're looking for that level of power, you're best switching to a CO2 laser. CO2 lasers are generally more expensive than diodes.
However, there is one option for a very affordable CO2 laser. OMTech's K40 laser cost around $500, which is super cheap for this level of power and tech. All other non-K40 CO2 lasers cost at least $2,000, which is more the average starting range for a high-quality laser.
In terms of cutting speeds for a cheap laser cutter, 400mm/s (offered by the D1 Pro and similar quality machines), is a good speed to look for. A fair few machines are slower than this, which isn't a huge issue for many people, especially if you're a beginner or just a casual hobbyist.
There are also some affordable laser cutters that are faster, like the LaserPecker 2 Pro which offers a really fast 600mm/s speed for just over $1,000. However, it does compensate for this in other areas to keep the price low, as it uses just a 5W laser and has a small 100x100mm working area.
The average working area for a low-cost laser cutter is around 400x400mm. This shows that the small laser metal cutting machine price isn't always lower than that of larger machines.
It's always important to read user reviews whenever you're buying something, but this is particularly important for cheaper products. So, check out what users have to say, stick to reliable brands like the ones we've mentioned, and make sure you know what specs you need to help you find the right laser at the right price.
To summarize, here's how four popular lasers in this price range compare:
| | Price | Laser type | Working area | Power | Speed | Where to Buy |
| --- | --- | --- | --- | --- | --- | --- |
| Atomstack A5 Pro | $349.99 | Diode | 410x400mm | 10W | 400mm/s | Amazon |
| xTool D1 Pro | $699.99 | Diode | 430x390mm | 10W | 400mm/s | xTool |
| LaserPecker 2 Pro | $1,199.99 | Diode | 100x100mm | 5W | 600mm/s | Amazon |
| OMTech DF-0812 | $479.99 | CO2 | 200x300mm | 40W | 255mm/s | OMTech website |
To learn more about what you can get for different budgets, check out our guide to the best laser cutters for each price range.
Mid-range $2000-$7000 professional laser cutter cost
If you're a more serious hobbyist or a professional who's looking for a laser cutter for a small business, you'll likely want a more powerful machine, likely costing upwards of $2,000 up to around $7,000.
The majority of laser machines in this price range are CO2 lasers, but you can also pick up a low-end fiber laser for this price.
First off, it's important to know that there's a lot more variation in specs in this price range than there is with budget lasers. For example, while the majority of cheap lasers use 5W, 10W, or 20W didoes, you can purchase anything from 50W to 130W from OMTech with a budget of $2,000-$7,000.
Spending upwards of $2,000 can also get you a significantly larger working area than you get with cheap lasers.
For example, the Full Spectrum Laser Muse Titan costs $6499 and provides a 49" x 24" working area. Another popular model in this price range is the Glowforge Pro, a 45W CO2 laser that costs $6,995 and provides unlimited cutting length thanks to its passthrough slot.
Traditionally, fiber laser engravers have been restricted to industrial settings, but the rapid rise of laser cutter brands aimed at hobbyists over the last two decades has seen some low-cost fiber lasers become available in this price range.
For example, OMTech offers a 30W fiber laser for $3,599. Triumph Laser, which is one of the top manufacturers of fiber laser cutters, prices its cheapest machine at $5,000 – the Raycus 30W.
This is the lowest end of the metal laser cutting machine price range, and it increases substantially as you go up in terms of power, precision, and size.
The other major advantage to fiber lasers, aside from the fact they can cut and engrave metal, is that they offer significantly faster speed than diodes and CO2s.
For example, with a CO2 laser in this range you're still limited to around 400-600mm/s engraving on average, but even the cheapest fiber lasers typically offer more than 10x that speed.
| | Price | Laser type | Working area | Power | Speed | Where to Buy |
| --- | --- | --- | --- | --- | --- | --- |
| OMTech 50W | $2,000 | CO2 | 20×11" | 50W | 400mm/s | Amazon |
| OMTech fiber laser | $3599.99 | Fiber | 6.9"x6.9" | 30W | 7,000mm/s | Amazon |
| FSL Muse Titan | $6499 | Diode | 28×24" | 5W | 600mm/s | Matterhackers |
| Glowforge Pro | $6,995 | CO2 | 20x∞" | 40W | 200mm/s | Glowforge website |
Industrial laser cutter cost
Industrial lasers designed for high demand and complex production settings are when we start getting to the big money.
Again, there's a lot of variation in this category – some industrial lasers cost under $10,000, while others cost well over $50,000. Some of the highest quality fiber lasers, in fact, sell for over $500,000.
Brands like Boss Laser manufacture these kinds of lasers, but they typically don't advertise prices on their website. In fact, it's fairly common for you to have to request a quote for most models costing over $15,000. This is because industrial laser manufacturers will typically provide custom packages depending on a person or company's need.
When it comes to the specs of industrial laser cutters, there's almost no limit to the possibilities. Both CO2 lasers and fiber lasers are used in industry, although fiber lasers typically offer much higher ceilings in terms of potential power.
For example, Boss Laser sells CO2 lasers up to 250W with 55×98" working areas, while its most powerful fiber lasers offer up to 15kW and 6" x 13" working areas, which is serious power designed for the most complex and demanding applications (Google, Amazon, and NASA all use Boss products).
| | Price | Laser type | Working area | Power | Speed | Where to Buy |
| --- | --- | --- | --- | --- | --- | --- |
| Triumph F1530 | Upon quote (upwards of $10k) | Fiber | 51×118" | 500-6,000W | 2,000 mm/s | Triumph website |
| Boss LS-3655 | Upon quote (upwards of $10k) | CO2 | 36.x55" | 80-155w | Upon quote | Boss website |
| Boss FC-6012EXR | Upon quote (upwards of $50k) | Fiber | 6x13ft | 1kW-15kW | Upon quote | Boss website |
Laser Cutting Costs: How much does it cost to run and maintain a laser cutter?
How much does laser cutting cost per hour?
Most low power consumer diode and CO2 lasers cost less than $0.50 per hour in terms of electricity, although more powerful lasers up to 1000W can cost anywhere from $2-$15, depending on your settings.
However, you should also consider the price of the laser, the salary of any operators, and the materials used, to create a full hourly cost of laser cutting.
Material Costs
The majority of materials commonly used in laser cutting – paper, card, felt, leather, acrylic, plastics, glass, slate, and wood – are very cheap.
There are some exceptions, like certain expensive hardwoods, but in general, the materials used in laser cutting are inexpensive, and you can certainly enter into the hobby on a budget.
It only gets expensive if you're using a fiber or infrared lasers to engrave metals, particularly precious metals used in jewelry like gold and silver.
Here are some common raw materials and their approximate prices:
| Material | Size (L×W) | Thickness | Approx price per sheet |
| --- | --- | --- | --- |
| Basswood (Unfinished) | 8"×12" | ⅛" (3mm) | $2 |
| Balsa | 300mm×200mm | 2mm | $2 |
| Acrylic | 8"×8" | 0.118" (3mm) | $3.5 |
| EVA Foam | 14"×39" | ⅛" (3mm) | $14 |
| Business Card (Paper) | 3.5"×2" | 0.01" | $0.02 |
| Aluminum Business Card | 86mm×54mm | 0.2mm | $0.2 |
| Silver | 6"×3" | 0.0159" (0.4mm) | $65 |
| Felt | 12"×8" | 0.055" (1.4mm) | $0.5 |
Check out our laser cutting material encyclopedia to learn more about the different types of materials you can cut and engrave with a laser.
Repairs and Upgrades Costs
Repairs
The main laser cutting cost when it comes to maintenance is the laser module itself, as these have a limited lifespan. This is typically quoted as 10,000 hours for a standard diode laser, but this varies depending on the power settings you use.
The cost of replacing a laser module depends on the type and power – for example, high-quality 10W diodes usually start from around $200.
For CO2 lasers, the laser tubes will need replacing around every 10,000 hours.
Laser power supplies can also fail and need replacing. Mirrors, lenses, bearings and rails can also need cleaning, or wear out and need repairing or replacing.
Upgrades
In terms of upgrades, these really depend on your laser and the upgrades it supports. Some laser machines allow for relatively few upgrades, although you can typically upgrade the laser module itself.
Others provide a wider variety of upgrades which vary in cost, the xTool D1 Pro being a good example. It can be upgraded with an infrared module, as well as an extension kit, enclosure, rotary, and much more. I have the rotary module and enclosure for my xTool D1 Pro, which also works with my xTool P2 that just arrived.
So, if you buy a D1 Pro with all these accessories, it'll more than double the overall cost of your laser engraver. Fortunately though, you can start off small and then buy any add-ons based on what you need at the time.
It's also common for manufacturers to offer other components that don't upgrade the machine's capabilities but improve safety and usability, such as enclosures. These can range from $100 to over $1,000, depending on the size of the enclosure.
Electricity Cost
Laser manufacturer CTR states that a CO2 laser with a 2140 VA power rating will use around $0.2 per hour for engraving and $0.24 for cutting. Another machine manufacturer, Artizino, states that using a 1000W laser for steel cutting will cost around $2.20 per hour minimum, rising as high as $11.60 if you're using max settings.
Considering both power, and laser efficiency (of 80-95%), you can generally estimate:
Under 50W laser: less than $0.10 per hour
Medium-size CO2 laser ~500W: $0.50-$2.50 per hour
Large 1000W industrial laser: $1-5 per hour
Very powerful 2000W+ industrial lasers: could be $10+ per hour
For using a diode or CO2 laser at home, your costs will be negligible. We ran the numbers on our 3D printing site, 3DSourced, and found you can 3D print almost 24/7 and still only pay around $62 per year. For laser engraving on a laser up to around 50W, the electricity costs are similar.
So overall, no, laser cutters do not use a lot of electricity.
You're unlikely to accumulate excessive electricity costs with consumer laser engravers. Industrial machines cost more, but if you're running a steel cutting operation with a 1000W laser, then $2-$11 electricity costs likely aren't going to be a huge issue.
Software costs
If you're on a budget and wondering about the cost of laser cutting machine software, the good news is that there's no need to spend big in this area. In fact, many of the best laser software, such as LaserGRBL, are completely free to download and use.
Even Lightburn, which is widely regarded as the best laser software, only costs between $60 for a standard license. Though, many industrial laser cutters come with their own custom software.
When it comes to design software, there are both free options like Inkscape, as well as paid ones like Adobe Illustrator (from $20.99 per month). So, it all depends on your budget and the capabilities you need, but you can certainly design and operate a laser at no software cost.
Finishing Costs on Laser Prototypes
Another aspect of laser cutting that can incur costs is the finishing process.
Many people add finishes for purposes like improving appearance and durability. Finishing is particularly important for prototypes and other similar applications.
One finishing option is bead (or sand or grit) blasting, which involves shooting tiny pieces of abrasive material at high pressure to create a uniform appearance. This can cost up to $2.50 per round of blasting, or $30-$45 per hour.
Other forms of finishing include adding coatings or paint and other products.
On the other hand, you can finish laser products for cheap at home yourself. For example, slate is a product that typically has a finish added during laser engraving, and you can buy bottles of slate finish from Amazon for less than $20.
Opportunity Cost of Your Time
One reason many people ask the question of "how much does a laser engraver cost?" is because they want to know whether that cost is worth their time. This is particularly important if you plan on using a laser cutter as part of a small business.
There's no one-fits-all answer to this. However, there are many people that run small successful businesses selling laser-engraved projects, such as laser-engraved slate and coasters and phone cases, on places like Etsy.
There is definitely a learning curve with laser engraving, particularly with the software. However, once you get the hang of things, it can be relatively quick to do simple projects. For example, if you wanted to engrave the same design onto 10 coasters or phone cases, once you've got your design right and have done a successful test, you can repeat the process very quickly.
Of course, the more complex your projects, the more time it'll take, but you'll also be able to charge more for products like this.
FAQs
Can you make money with a laser cutter?
Yes, many people make money with laser cutters – including me! One common small business idea is providing personalized engravings on products like coasters and phone cases that lots of people sell on sites like Etsy.
What is the price range of a diode laser cutter?
Diode laser cutters can cost anywhere from $200 to $2,000 depending on the quality and power of the machine. Basic 5W diode lasers can cost as low as $200-300, with 20W diode laser cutters costing over $1000.
What is the price range of a CO2 laser cutter?
CO2 laser cutters can range from $500 to $10,000 for consumer and small business machines, but industrial CO2 lasers can exceed $100,000 for the highest-quality models.
What is the price range of a fiber laser cutter?
Fiber laser cutting machine price ranges start from around $5,000, but can exceed $500,000 for the most powerful industrial models.