Top 9 Best CNC Simulator Software 2023 (Free & Paid) 

At CNCSourced, we're a team from across the world, united by our passion for everything CNC, laser cutting, and more! We try to publish at least once per week, and we're always up for talking anything DIY and making! Altogether we've written over 150 technical guides, from how to wire stepper motors, to brand-new ways to CNC carve granite with $5. You can read more about us on our about page.
In CNC machining, precision is key. Even a small error could potentially wreck a project – and one of the best ways to prevent that is by using CNC simulator software.
The best CNC simulators will allow you to easily test run projects without the risk – and in this guide, I'll be ranking my experience with free and paid options.
CAMotics is the best choice for beginners and casual hobbyists who want a free, user-friendly CNC simulator with some nice features and an active user community.
On the other hand, CNCSimulator Pro is a better pick for professionals who need a powerful, all-in-one solution with CAD and CAM capabilities.
In this guide, I'll compare my hands-on experience with each CNC simulator across important factors like ease of use and software compatibility, so you can avoid the classic mistakes and make a confident choice.
To get more from your CNC machine, you can also read our guide on the best CNC software
Best CNC Simulator Software – Full Round-Up
Free:
CAMotics – Powerful yet user-friendly free CNC simulator
NC Viewer – Free CNC simulator that can be embedded into Fusion 360
Paid:
Best Free CNC Simulator Software
CAMotics – Powerful yet user-friendly free CNC simulator
Pros
Free to use.
Available on Windows, Mac, and Linux.
Supports a variety of different tools.
Cons
Can't estimate the overcutting and undercutting of the milling operation.
You don't have to splash out to benefit from CNC simulator software – CAMotics is one of several open-source simulator solutions that are completely free to use.
This software has been around since 2011 and is popular among hobbyists. It's available on Windows, Mac, and Linux, so you're not restricted by your operating system, unlike with some other software.
With CAMotics you can simulate 3-axis G-code programs and then view the results in 3D. It supports a variety of different tool shapes, including cylindrical, conical, ballnose, snubnose, and spheroid.
This free CNC simulator software isn't flashy but is very efficient and has some nice features, including special functionality for particular processes like PCB cutting.
Another of the benefits of CAMotics is that there's an active user community and a discussion group where you can get tips, share projects, and so on. This makes CAMotics an ideal simulator for beginners and casual hobbyists.
NC Viewer – Free CNC simulator that can be embedded into Fusion 360
Pros
Browser-based that's completely free to use.
Fully mobile compatible with IOS and Android.
The interface is clean and intuitive.
Cons
Not as advanced as other software.
Whereas the majority of CNC simulators are downloadable software, NC Viewer is a browser-based option that's completely free to use. However, while it's browser-based, the software is automatically cached by your browser so you can still use it offline.
That's not the only benefit of this free online CNC software, though – it's also fully mobile compatible for iOS and Android devices, including tablets, so you can use it anywhere regardless of device.
While NC Viewer isn't advanced as others, it's still a decent tool for verifying, visualizing, and backplotting G-code. You can use it for both 3 axis and 5 axis files for mills, lathes, and 3D printers.
The interface is clean and intuitive with an interactive 3D environment. Useful features include advanced code and syntax highlighting for easy identification of errors, and the ability to write and visualize G-code line by line so you know exactly what your code is doing.
Another benefit of this free CNC turning simulation software is that it can be embedded into Autodesk's popular CAD/CAM software Fusion 360 and allows you to view live external NC files. The plugin is also free.
Best Paid CNC Simulator Software
CNCSimulator Pro – All-in-one solution with CAD & CAM capabilities
Pros
Powerful software.
Over 40 machines you can use the software with.
Very user-friendly and has an online learning center.
CNCSimulator Pro was launched all the way back in 2001 and is one of the most popular CNC simulator solutions for Windows.
This is a powerful software that's ideal for 3D visualization of different machines, from turning and milling machines to plasma cutters, 3D printers and water jets, so it's a really versatile program. In fact, there are over 40 machines that you can use this software with.
While this CNC simulation software may be powerful, it's also very user-friendly and has an online learning center with extensive resources, so it's suitable for both beginners and professionals.
CNCSimulator Pro is also a very configurable software, as you can create your own stock material, tools, and workpieces. Alternatively, you can choose from one of the many built-in, ready-to-use resources.
Finally, this is an all-in-one CNC software package; as well as a simulator it also has CAD and CAM capabilities through the integrated SimCam system, so you can use it to design your projects and then simulate them.
G-Wizard Editor – Simple and Intuivie G-code Simulator
Pros
Designed to make the complicated process of editing G-code simple.
Has an extensive error-checking feature.
Very powerful.
Cons
The UI design feels outdated.
Whereas software like CNCSimulator Pro are all-in-one solutions, others like G-Wizard Editor are used specifically for simulating and editing G-code.
This software is designed to make the complicated process of editing G-code simpler for all CNC enthusiasts. It has predefined machine and controller posts that enable you to get started quickly and every line of code is written out in plain English to make it easier to understand.
There's also a nice conversational CNC feature that generates G-code for simple parts without the need for CAD or CAM, which is useful if you're taking your first steps into CNC machining.
Another benefit is the extensive error-checking feature. Whereas most G-code editors just give you the backplot, G-Wizard has a dedicated tab that shows all the errors in your code.
Whether you're looking to write G-code from scratch, edit code or test CAM-generated code, this is an affordable, powerful and intuitive solution that's available on both Windows and Mac.
Eureka G-Code – Advanced CNC program simulator for Android, iOS & Windows
Pros
Advanced with an array of useful features.
Can review and analyze your simulations via the EurekaMobile app.
Eureka G-Code provides a more advanced – and expensive – G-code editing system with an array of useful features.
With this CNC simulator software, you can verify G-code commands and analyze the real life machining results. Eureka software has been around for 20 years and is able to emulate all the most popular CNC controls, ranging from Fanuc, Siemens and Haas to Okuma, Mazak, Selca and more.
It provides an exact digital replica of your CNC machine, simulating all controller codes including macros, parameters and constructor cycle variables. Among its capabilities are the simulation of sliding head lathes, multi-channel mill turns, and probing operations, so it's a really flexible CNC programming online simulator that provides accurate results for a wide range of processes.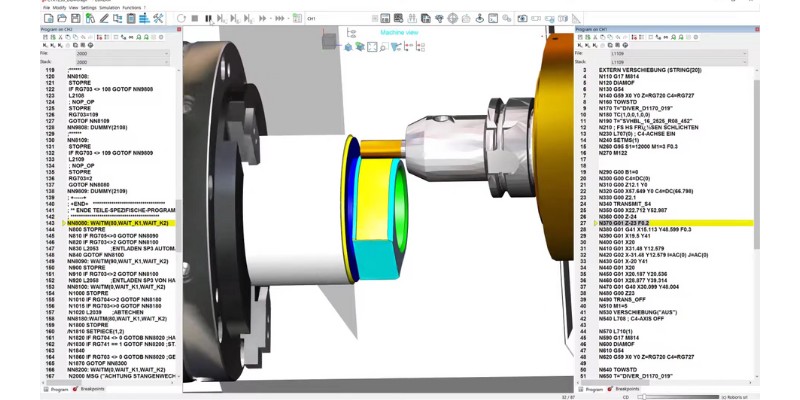 Another big advantage of choosing Eureka is that you can review and analyze your simulations via the EurekaMobile app for Android and iPhone. The app also provides a detailed analysis of errors and warnings that occur during the simulation.
The Eureka website has a calculator which estimates how much you could save if you use the G-Code simulator. For example, if you use three machines for 50 hours per week with an hourly cost of $75 and a 10% prove out vs production, Eureka claim you'd save $58,500 per year if removing prove-outs and $29,250 per year if cutting prove-outs by half.
Fanuc CNC Simulator – Best CNC simulator for schools and colleges
Pros
Ideal for students.
Can graphically generate programs and simulate them in 3D.
Fantastic learning resource.
Cons
Not designed for professionals.
The Fanuc CNC Simulator is specifically designed for use in schools and colleges and is a fantastic learning resource.
This software is based on the Fanuc Series 0i Model F platform and can be used for simulating both milling and turning operations. It uses actual Fanuc CNC control functions and is an ideal way for students to become familiar with the look and functionality of a fully operational CNC control.
The Fanuc simulator has a conversational programming interface through which you can graphically generate programs you can then simulate in 3D. You can then convert the code back to conventional NC programs for use on machine tools with Fanuc controls.
Far from being a G-code editor and simulator, this CNC lathe simulator has an innovative part programming operation environment that focuses on machine operations as well as code, helping jobs be completed as quickly as possible.
Fanuc CNC Machining Simulation – Advanced 5 axis simulator
Pros
Advanced tool designed for professionals.
Extension for 5 axis simulation.
Cons
Too advanced for beginners.
Whereas the Fanuc CNC Simulator is designed for educational purposes, the Fanuc CNC Machining Simulation is an advanced tool designed for professionals. It's a versatile program, able to simulate operations for 3 axis and 5 axis CNC mills as well as 2 axis lathes.
There are three different purchase options – the standard workforce development package, the upgraded workplace development package, and the 5 axis extension package. You can request information and a quote from the Fanuc sales team to help you decide on the right package for your needs and budget.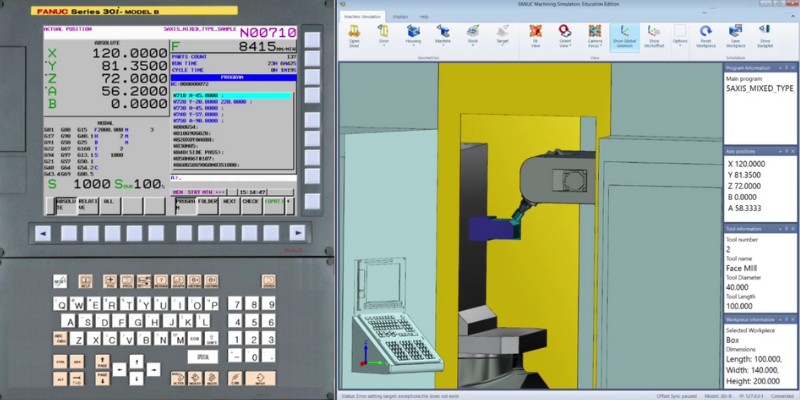 The highlight of this software is the complex milling extension for 5 axis simulation. 5 axis machining is much more complex than 4 axis and 3 axis processes in terms of setups and configuration options, so the ability to simulate and visualize 5 axis code is invaluable.
A nice bonus is that this CNC machine simulation software comes with the Fanuc Manual Guide i conversational programming software included, which is a great way to learn shop floor programming.
Nanjing Swansoft Machine Simulator – Great for professionals and students
Pros
One of the best CNC programs on the market.
Designed for professionals and student training.
The Swansoft Machining Simulator, developed by Nanjing and known as SSMAC, is, without doubt, one of the best CNC simulator programs on the market.
This solution is designed for professionals and student training and has some nice features that make it particularly useful for educational settings. For example, teachers can set faults that students are then tasked with finding, and results can easily be viewed through the SSMAC server.
It supports Fanuc, Siemens, and NHC systems and can be used to simulate both milling and lathe operations. It uses both 2D and 3D graphics to provide detailed displays of numerical control system operations, fault detection, electrical system functioning principles, and more.
This is far more than just a simulator, however, as it also has CAD capabilities, including rendering and modeling, so that you can create designs and then simulate the machining process.
We also like the well-designed, user-friendly interface layout which makes the Nanjing Swansoft CNC simulator suitable for beginners.
Hexagon NCSIMUL – Best CNC simulator for complex 5 axis operations
Pros
Highly advanced.
Smart and offers high performance.
Useful for complex 5 axis CNC operations.
Cons
Not beginner-friendly.
Hexagon NCSIMUL is a highly advanced CNC simulator designed for professional use.
This is a smart, high-performance solution that's ideal for verifying, simulating, and optimizing turning, drilling, and milling for both 3 and 5 axis CNC machines. It has an intuitive and practical interface in which clean 3D graphics demonstrate CNC collision detection in real-time.
NCSIMUL also has some great collaborative features that make it ideal for business use. For example, you can generate CNC technical documents and then easily share them, along with simulations, via the NCSIMUL player.
It's easily scalable and can be seamlessly integrated existing CAM data, so you can integrate it into your system without the need to rebuild tool libraries.
This CNC programming simulation software is particularly useful for simulating complex 5 axis CNC operations and is a realistic way of cutting tool feeds and speeds to reduce cycle times.
The Basics of CNC Simulator Software
A CNC simulator is a way of simulating G-code and toolpaths to predict the behavior and outcome of machining processes. With simulator software, you can simulate G-code operations and then visualize the results in 3D. Simulators are often referred to as the 'digital twins' of real-life CNC machines.
There are various benefits of using a simulator. First and foremost, it allows you to test G-code for inaccuracies and errors without the risk of damaging a workpiece.
This means that not only does a CNC simulator help achieve more accurate machining, but it also makes the process more efficient by helping save time and cash as you won't need to waste money on replacement workpieces. With a simulator, you can gain insights into how the overall CNC process can be improved and optimized, without wasting any material making real-life mistakes.
CNC simulators are often used in schools and colleges for educating students, as well as for training staff in businesses. Another benefit, and one that's particularly relevant to the current COVID era, is that they allow CNC students and professionals to train and work remotely.
Most simulator programs can be used to simulate operations for a range of different machines, including:
While simulation is the essential use of CNC simulator software, many programs offer other capabilities. For example, some allow you to write and edit G-code, while others have built-in CAM and CAD capabilities.
Most specialist CAM software have simulating capacity built-in. However, the issue with these is that they often don't accept already programmed G-code, which is why many people seek out specific CNC simulating software.
Related Article: