5 Best Free PCB Design Software in 2023 (Top Picks)

At CNCSourced, we're a team from across the world, united by our passion for everything CNC, laser cutting, and more! We try to publish at least once per week, and we're always up for talking anything DIY and making! Altogether we've written over 150 technical guides, from how to wire stepper motors, to brand-new ways to CNC carve granite with $5. You can read more about us on our about page.
Are you in search of the best free PCB design software options to elevate your electronics projects?
Whether you're an electronics hobbyist or a professional engineer, these software packages allow you to create and simulate circuit boards online, which you can use to create real-life PCBs.
There are many different free programs to choose from, so it's important to find one that offers the features and tools you need.
I'd recommend TinkerCAD as the best PCB design software for beginners. It's easy and intuitive, allowing you to take your desktop simulations on the go with their convenient iOS and Android app.
Elsehwere, EasyEDA brings autorouting into the mix, while KiCAD provides a more feature-rich solution suitable for advanced users.
In this guide, I'll share my hands-on experience with all the best free circuit board design programs. We'll compare them across important features, difficulty levels, and more to help you find the right solution for you.
Best Free PCB Design Software Reviews
Now let's take a look at the best free PCB editor programs, starting with the most beginner-friendly options.
Best For Beginners
TinkerCAD – Simple PCB Design Software
Pros
Simple and beginner-friendly
Design from scratch or use templates
Great intro into PCB design using coding
Simulate your designs
Useful starter learning resources
iOS and Android app
Cons
Basic compared to other software
TinkerCAD is a popular program that's one of the best free online PCB design software for beginners due to its intuitive interface and easy design tools.
This software makes it super easy to build simple circuits from scratch and provides various templates you can use to get started. It provides an interactive circuit editor that allows you to connect virtual projects, and it offers block coding PCB design which is helpful if you want to work with Arduino or micro:bit.
TinkerCAD offers simulations to check your design works before wiring your circuit, with 1:1 representations of Arduino, micro:bit, and other components. It's even recently added the ability to program micro:bit PCB simulations using python scripting.
Another reason we rank TinkerCAD as one of the top free PCB design software online is that it's also one of the few programs available as an app for iOS and Android. This makes it easy to create circuit boards anytime and on the move.
TinkerCAD is also an Autodesk product and is therefore a great introduction to one of the brand's other software, Eagle, which is among the most advanced PCB design solutions (we review Eagle further down).
---
EasyEDA – Beginner PCB Design Software with Autorouting
Pros
Widely used by professional PCB designers
Over 5 million design libraries
Real time part data
Supports autorouting
Can simulate circuit designs
CAM outputs
Cons
Component catalog focused on Chinese products
Another free PCB design software to consider is EasyEDA, which according to its website, is used by almost three million developers and has been used to create over 14 million PCB designs.
Perhaps the most impressive aspect of this program is its huge number of free PCB libraries – more than five million – and it also allows you to import your own common libraries. Libraries contain lists of often-used components and footprints and help automate processes and improve efficiency.
Another benefit of EasyEDA is that it provides real-time price data on over 800,000 inventory quality components. As well as price, you can also check part stocks, datasheets, and SMT information. This is particularly useful if you're looking for a free PCB design software for CNC work that lets you know the availability and prices of each part you need.
Unlike some other free solutions, EasyEDA offers autorouting. This automatically adds the wires to connect the components on your board, which can help speed up and simplify the process of PCB designing.
This free PCB layout software also boasts impressive simulation tools. These allow you to produce precise and reliable simulations of your circuit board designs to ensure everything is in order before you start manufacturing them.
---
Best For Intermediate & Advanced Users
KiCAD – Free Open Source PCB Design Software With Huge Community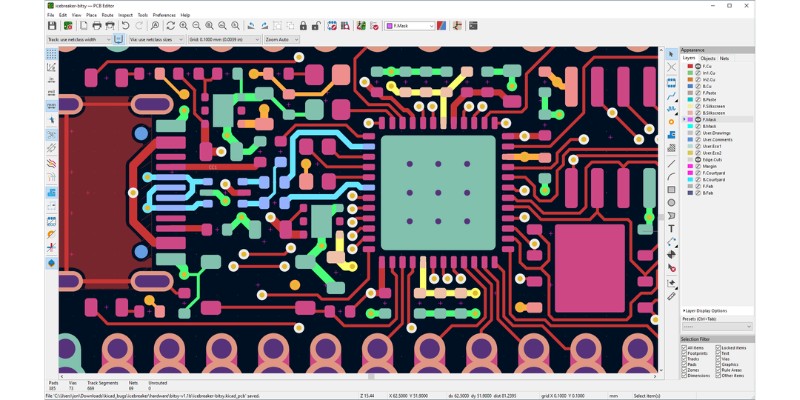 Pros
Been used by PCB designers for over 30 years
Huge community with great support & regular major updates
Highly intuitive yet powerful PCB design tools
Supports Gerber output
Suitable for novices and advanced users
Available on Linux, Mac, and Widows
Cons
It doesn't support autorouting
Having been around for over 30 years, KiCAD is one of the most widely used free PCB designing software.
Available on Windows, Mac, and Linux, KiCAD's powerful schematic editor allows you to create everything from basic circuits to complex hierarchical designs that are hundreds of sheets in size. So whether you're a beginner, intermediate, or experienced PCB designer, KiCAD has something for everyone.
It has an intuitive interface, a powerful, interactive router, and a wide selection of visualization and selection tools. Once you're done with your schematic layout, you can view it in 3D, complete with a built-in raytracer with customizable lighting to create realistic representations of your work.
Another benefit of KiCAD is that it's one of the best free PCB design software with Gerber output. You can generate Gerber files, convert Gerbers to PCB layouts, load any amount of Gerber layers with X2 format support, and use a variety of inspection features including measure clearances.
KiCAD has one of the largest communities of PCB designers online, is very well supported, and is regularly updated – it's currently on its way to raising $100k to further fund its development in 2023. It also provides comprehensive documentation and learning resources, so you have everything you need to get started.
---
Altium CircuitMaker – Powerful and Professional Free PCB Design Editor
Pros
Built on Altium Designer technology
Extremely intuitive interface
Vast component library
Supports autorouting and push-n-shove routing
Create multi-layer schematics
Great CAM output tools
Active and collaborative community
Cons
Limited to five projects
CircuitMaker is a free PCB design software for windows 10 and Mac from Altium, which is best known for its Designer software that's often considered the most powerful professional solution.
Designer costs hundreds of dollars a month, but CircuitMaker is built on the same technology and is a great free option.
For starters, it offers one of the most intuitive and streamlined interfaces of all free PCB design programs. You also get many key features that are typical of paid programs, including precise autorouting, push-n-shove routing, multi-layer schematic editing, design rule checking, 3D visualization, and a vast component library.
One of the downsides to CircuitMaker is that, unlike open-source PCB design software, you're limited to five projects and designs with up to 16 signal and plane layers. However, there are no restrictions on PCB dimensions, and you can use the program commercially.
If you want to bring your designs to life, CircuitMaker offers industry-standard CAM outputs with IPC test point reports and the ability to choose between Gerber and NC Drill or ODB++ outputs (or both).
Finally, this is also a very community-based software. It's integrated with databases where you can find example projects and educational resources, and you can also share designs with and collaborate with other community members.
---
Autodesk Eagle – Most Powerful PCB Drawing Software for Mac & Windows
Pros
Professional grade software
Industry-leading 3D visualizations
Highly intuitive push-n-shove and autorouting
Intelligent obstacle avoidance
Various CAM functions and file outputs
Advanced simulation tools
Integrated CAD/CAM/CAE tools with Fusion 360
Cons
Free version limit to two schematic sheets and layers
Autodesk Eagle is perhaps the most advanced free PCB design software for Mac and Windows. This Autodesk software is widely used by professionals across various industries but is available for hobbyists.
Eagle offers a powerful yet intuitive schematic editor that allows you to design using drag-and-drop blocks, conduct electronic rule checking, and SPICE simulation tools for validating circuit performance. It also provides interactive push-n-shove routing and autorouting with advanced obstacle avoidance and intuitive alignment tools.
Thanks to its real-time synchronization, all changes are synced between the schematic and layout editors so you can focus on the creative process. Eagle is also notable for having some of the most impressive-looking 3D visualizations of any free PCB design software.
On top of that, it has great CAM functions and allows you to generate Gerbers, drill files, and assembly files.
While you can download Eagle as a standalone software, it's also included with Autodesk Fusion 360, which is free for three years for non-commercial use. Fusion 360 is a powerful CAD/CAM software that also has some great CAE features.
Remember, however, that the free version of Eagle is limited to two schematic sheets and two signal or plane layers, although you still get access to other top features like generative design and cloud simulation and rendering.
The paid version starts from $15 a month and gives you access to 99 schematic sheets, or $65 a month for up to 999 sheets.
---
Buying Guide – Things to consider when choosing free PCB software
Compatibility
It's important to know that different programs are compatible with different devices and operating systems. While many are available on Mac and Windows, if you're looking for a free PCB design software for Ubuntu, you'll need to avoid the likes of Fusion 360, which aren't available on Linux. Luckily, Linux users still have top options like KiCAD.
It's similar if you're looking for free PCB design software for Android and iOS, as only a few programs, such as TinkerCAD, offer mobile and tablet apps.
Design Capabilities & Features
Not all free circuit board design software offer the same functions. For example, autorouting is a popular tool available in Fusion 360 and EasyEDA, but not KiCAD.
Schematic features are also important – schematic capture refers to the process of actually putting your components together within the schematic editor tool.
Kicad is considered one of the best free schematic capture software due to its powerful Eeschema module and its ability to work with hierarchical, multi-layer schematics to stay organized with complex projects.
Other important features to consider include the number of design libraries, whether the software supports Gerber output, 3D visualization, and whether you can simulate your designs (and the accuracy of these simulations).
Learning curve & training required
While some free PCB designer programs are beginner-friendly, others are more advanced and have a steeper learning curve, so you should look for software that is suitable to your skill level.
For example, TinkerCAD is one of the most simple PCB design software used in schools to teach young students the basics. On the other hand, the likes of Fusion 360 take more time to learn and are better suited to intermediate and experienced users.
Completely free or limited?
There are open-source PCB design software like KiCAD that have no restrictions and are free forever. However, this isn't the case with all programs; the highest quality free solutions sometimes have a catch.
For example, Altium CircuitMaker can be used commercially but limits you to five projects. Eagle also limits what you can create, so bear this in mind.
Can I design my own PCB software?
It's possible to create your own PCB software if you're a developer and have coding skills, although there are many powerful free options like KiCAD and EasyEDA to consider.
Which PCB Design Software are Free?
Is Circuit Wizard free?
No, Circuit Wizard only offers a free demo and requires payment for full access. You need to contact the Genie sales team to get a quote.
Is Altium Designer free?
No, Altium Designer only offers a free trial, after which the software cost starts from $355 per month.
Is Autodesk Eagle CAD free?
Yes, Autodesk Eagle is free to download and use as a Windows, Mac, and Linux PCB design software. It's also available as part of the free license for Fusion 360.
Is OrCAD PCB free?
No, OrCAD is a paid circuit layout software, although it does offer a free trial.
Is EasyEDA free?
Yes, the standard version of EasyEDA is free to use forever.
Are circuit makers free?
Yes, there are some circuit maker software available for free, such as Altium's CircuitMaker.
Is PCBWay free?
No, PCBWay is a custom PCB design and prototyping service that requires payment. You need to request a quote and will then get a price depending on your requirements.
Key KiCAD Info
Is KiCad used in the industry?
Who owns KiCad?
KiCAD is an open source software that's managed by a team of developers. It was initially created by Jean-Pierre Charras in 1992.
Is KiCAD as good as Altium?
Altium Designer is arguably the most powerful, widely used, and expensive PCB designer software and is overall more advanced than KiCAD. However, KiCAD is widely regarded as one of the best free download PCB design software.
Which is better EasyEDA or KiCad?
This depends on your needs – EasyEDA has autorouting, simulation, and over 5 million libraries, while KiCAD supports multi-sheets and multi-layer schematics for creating complex designs. EasyEDA may be preferred for simple and intermediate circuit designs, while KiCAD offers a more advanced solution for large projects.