AutoCAD vs SolidWorks: Which One to Learn?

At CNCSourced, we're a team from across the world, united by our passion for everything CNC, laser cutting, and more! We try to publish at least once per week, and we're always up for talking anything DIY and making! Altogether we've written over 150 technical guides, from how to wire stepper motors, to brand-new ways to CNC carve granite with $5. You can read more about us on our about page.
AutoCAD and SolidWorks are two of the most widely used CAD programs. But, AutoCAD and SolidWorks are very different, so learning their differences is important for anyone who wants to work with CAD software.
Architects and civil and structural engineers mostly use AutoCAD, while mechanical engineers mainly use SolidWorks. It's well known for its 2D design toolset, while SolidWorks is known for its 3D modeling and rendering.
AutoCAD is a superb tool for interior design, urban engineering, architecture, GIS, and facilities, while SolidWorks is excellent for part designing, motion analysis, simulations, animations, fabrication, machining, 3D printers, and fluid dynamics.
SolidWorks is more expensive than AutoCAD. Plus, SolidWorks demands higher system requirements to run it, and it's more difficult to learn and use than AutoCAD.
In this article, we'll explain every major difference between SolidWorks and AutoCAD, to help you understand which is the best for your particular needs.
A Quick Summary: AutoCAD vs SolidWorks
Autodesk's AutoCAD and Dassault Systemes' SolidWorks are the industry standard for numerous CAD applications. However, they don't fight for the same territory. In fact, Autodesk Inventor is Solidworks' main competitor, as their CAD applications overlap the most.
AutoCAD is an advanced 2D drafting tool, while SolidWorks is an advanced 3D modeling and simulation software. Does this mean that AutoCAD is 2D, while SolidWorks is 3D? No!
AutoCAD has 3D design tools, just like SolidWorks has 2D sketching tools. However, it's easier to plot complex 2D plans in AutoCAD, while most of SolidWorks's 3D magic is impossible to do with AutoCAD. We'll further explain these differences below.
UI and Tools: AutoCAD vs SolidWorks
AutoCAD contains many drawing tools. You can choose whether it shows or hides the ribbon and the 3D features.
AutoCAD's 2D toolset is thorough and efficient. The following are some of AutoCAD's most common tools:
You can draw lines, rectangles, circles, and arcs, and fit the smoothest curve among the points you draw.
You can modify, mirror, chamfer, and copy drawings.
You can join various drawings to make a block, or trim to cut into smaller pieces.
You can also create 3D solids with AutoCAD's solid and mesh tools. But SolidWorks will do more with these shapes than AutoCAD. For example, you'll be able to merge assemblies with SolidWorks. We'll explain these shortly.
AutoCAD presents intuitive layering. Layers are instrumental in 2D plotting. For example, you can show a building's plan, the pipe's plan, and the electrical wiring plan on different layers.
Also, you must use distinct layers if the 2D plots are on different planes. For example, one layer shows the side view, while another displays the top view.
Can You Use SolidWorks Like AutoCAD?
You can also draw 2D sketches in SolidWorks. But the 2D tools are only really there to the extent that is useful for creating 3D shapes. Therefore, AutoCAD is better for annotating, labeling, and creating extensive 2D plots and layers.
SolidWorks UI and Tools
SolidWorks has specific functions to turn 2D sketches into 3D. For example, you can extrude a cube from a square. Or, you can make a hollow cylinder by revolving a square about a line. SolidWorks shows your successive 3D actions under the Features tree.
SolidWorks will give you unlimited 3D abilities along with the laws of physics. For example, you can go to Tools >> Mass Properties, and find the center of gravity for your 3D design.
The following are only some of SolidWorks' amazing capabilities in mechanical 3D modeling:
You can design separate parts, then go to SolidWorks' Assembly environment, and make a machine from the parts.
You can simulate how the machine moves in different scenarios. For example, you can test how a treadmill's conveyor belt moves with various motor settings and under different loads.
SolidWorks can show animations (of machine motions, for example).
Fluid dynamics simulations.
Finite element analysis for solving system equations.
Advanced machining tools for CNCing or 3D printing parts.
Predict the machine's life cycle and even which part is likely to break.
Stack-up analysis.
Specialized Toolkits: SolidWorks vs AutoCAD
AutoCAD has toolkits with specialized features for different fields. AutoCAD Architecture, AutoCAD Mechanical, and AutoCAD Electrical are all included in AutoCAD's latest version.
AutoCAD and its architecture toolkit are the industry standard for architects. The same can't be said for all other toolkits however.
AutoCAD Mechanical vs SolidWorks
AutoCAD Mechanical has many parts and tools: you can customize predefined parts by modifying their dimensions and properties. It can also generate a bill of materials, showing how much material you'll need for cutting and machining parts.
SolidWorks can do all of that, and then some. So, although AutoCAD Mechanical has specialized mechanical engineering tools, it can't replace in-depth mechanical engineering design software such as SolidWorks.
AutoCAD Electrical vs SolidWorks
AutoCAD Electrical is excellent for creating CAD plans for wiring or control panel components. It has all the symbols needed to careate CAD plots.
However, it's only good for drawing 2D plots. AutoCAD Electrical can't do what electrical or electronic engineering software can do – though SolidWorks' electrical routing features can do all of that.
Plug-Ins: AutoCAD vs SolidWorks
Plug-ins can add more functionality to the software. If you need a feature that's missing from the software, chances are there's a plugin that takes care of the issue.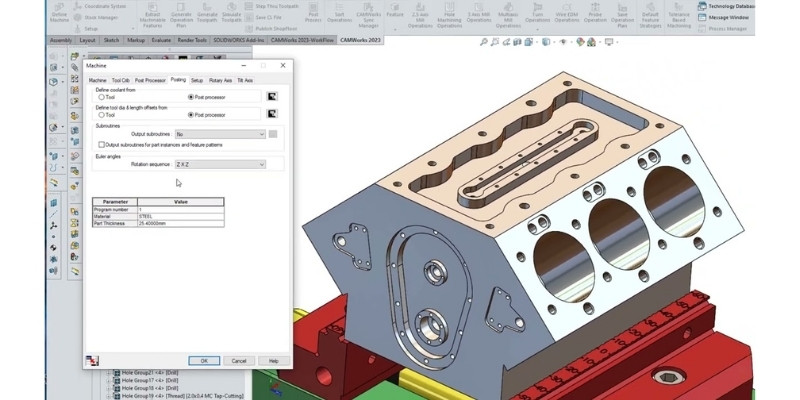 But SolidWorks' plugins are far more interesting than AutoCAD's. While AutoCAD has some excellent options, SolidWorks' plugins are more plentiful.
AutoCAD's useful plug-ins mostly revolve around extending the 2D features. For example, the Mark feature brings in more features for labeling various design parts.
But, check out how extensive (and sometimes expensive) SolidWorks add-ons are:
CAMWorks is an excellent CNC package to add to SolidWorks. It recognizes almost all CNC controllers. CAMWorks can generate advanced tool paths for any number of axes. It also understands which toolpath strategy optimizes your machining time.
Plus, if you need a full CNC toolpath simulation from g-codes that shows the actual CNC tool, the part, and even the clamps, you can use the Eureka G-Code add-on for SolidWorks.
Or, you can buy the Geomagic for SolidWorks for about $7900. You'll get a device with a camera that will scan any object around you, and the software will create high-resolution 3D models out of it. It can give an accurate STL file to 3D print the same thing!
For another example, let's say you are designing a machine with mechanical and electrical parts. If you need to simulate the electromagnetic effects and compatibility of the electrical parts, you can buy the CST add-on.
As you can see, SolidWorks add-ons are diverse and very specialized for 3D modeling and manufacturing.
User Experience: SolidWorks vs AutoCAD
We'll compare Solidworks against AutoCAD over their learning curve, compatibility, and mobile app here.
Which Is Easier to Learn, AutoCAD or SolidWorks?
Some CAD apps are so easy that you can create a basic 2D plan in minutes after installing. Don't expect AutoCAD to be like that, however – rather than an easy-to-learn, more basic software, AutoCAD is methodical software with advanced 2D tools.
So, it's natural that AutoCAD requires principled training. However. AutoCAD is not difficult, considering that it's expert-level software.
Similarly, SolidWorks is easy to learn considering its advanced capabilities. SolidWorks is very easy compared to programs like CATIA.
However, 3D modeling is generally harder than 2D drafting since it requires more imagination. Therefore, SolidWorks is more difficult than AutoCAD.
Compatibility and Systems Requirements
AutoCAD is compatible with Windows and macOS, while SolidWorks runs on Windows only. Solidworks and AutoCAD 2022 versions install on Windows 10 or 11.
So, if you want to run SolidWorks on macOS, you'll need to create a Virtual Machine on your computer with software like VMware Workstation.
Also, AutoCAD has fewer features on macOS than on Windows. For example, the block tool works only on Windows. (Creating blocks is very useful for joining different design parts into one entity for transformation or editing.)
Both AutoCAD and SolidWorks have demanding system requirements. SolidWorks, in particular, is not compatible with weak or old computers.
While AutoCAD requires a minimum of 8 GB of RAM, SolidWorks 2023 and 2022 require at least 16 GB.
Also, AutoCAD requires a display card with at least 1 GB of GPU and a bandwidth of 29 GB/s. SolidWorks is even more demanding on the display card than AutoCAD. So, you'll need 2 GB of GPU. Also, it's best if bandwidth is above 106 GB/s.
Mobile and Web App
AutoCAD Web offers a light version of AutoCAD with the most common commands, while SolidWorks doesn't have a web app yet.
However, SolidWorks is about to release a web app and has recently called users to test their SolidWorks 2023 Online Beta version.
AutoCAD Web is only good for light editing or labeling. It's already hard to imagine using AutoCAD or SolidWorks without a mouse, let alone using them on a mobile on the go!
Applications
Since AutoCAD and SolidWorks are dissimilar CAD tools, they are useful in different areas.
AutoCAD has extensive uses in the following fields and applications:
AutoCAD is the main tool for architects.
Civil and structural engineers widely use AutoCAD.
Industry standard for municipal engineering.
AutoCAD is one of the best software for interior design, as many decorators use AutoCAD.
Businesses use AutoCAD for GIS (Geographic Information System). Plus, AutoCAD has special plug-ins for GIS like ArcGIS for AutoCAD and Spacial Manager.
AutoCAD is excellent for Mechanical Architecture and Electrical Architecture (not mechanical or electrical engineering). This helps engineers to show modules on 2D maps.
It's the best software for facilities and plumbing.
Superb for creating 2D drafts.
Ideal for applications with limited 3D requirements.
On the other hand, SolidWorks is popular in the following areas:
Most mechanical engineers use SolidWorks.
Industrial designers widely use SolidWorks for designing parts.
Fabrication and sheet metal working.
Extensively used with CNCs and 3D printers for industrial use.
Advanced rendering applications.
SolidWorks has special modules for animations and mechanisms.
SolidWorks tests assemblies with physics laws and estimates product life cycles.
Virtual reality.
Has add-ons for reverse engineering.
Excellent for advanced 3D modeling.
Price
Autodesk offers AutoCAD LT and AutoCAD (full version), while SolidWorks Standard, SolidWorks Professional, and SolidWorks Pro are SolidWorks' three packages. SolidWorks is more expensive than AutoCAD.
AutoCAD is free for students. Meanwhile, SolidWorks is also very cheap for students, artists, and new startups. But you'll need to spend more if you're not eligible for these programs.
AutoCAD LT is cheaper than AutoCAD, but it doesn't have 3D modeling tools. On the other hand, SolidWorks Standard has all the CAD and modeling features.
However, the level of simulation, project management, and other features vary between the packages. If you have a business, you can consult Dassault Systemes for which package best suits your needs.
Although the prices we mention here are not the exact prices, they are very close to the actual prices. You can buy AutoCAD online from Autodesk, however, you should contact SolidWorks resellers for SolidWorks' exact price.
AutoCAD Prices
AutoCAD costs about $235 monthly, $1492 annually, or $4252 triennially. The cheaper AutoCAD LT costs about $322 for a yearly subscription. You can also get the AutoCAD Web for $10 per month or $100 for a yearly subscription.
SolidWorks Prices
A permanent SolidWorks Standard license costs about $4000, or $2700 for an annual subscription. SolidWorks Professional is about $5500, while SolidWorks Premium sells in the $8000 zone (or $4825 annually).
If you want Dassault Systemes technical support to assist you and also get package upgrades, you can optionally pay about 15-20% of these prices for a "maintenance fee."
Summary
Learning AutoCAD or SolidWorks gives you all the tools you need to design like an expert CAD modeler.
If you work mostly in 2D to design building plans or facility plans, or you need limited 3D capabilities, AutoCAD is better suited for you than SolidWorks.
However, SolidWorks satisfies your needs better than AutoCAD if you need 3D designs, animations, and testing parts and products.
AutoCAD is a key tool for architecture and municipal engineering, interior design, and civil and structural engineering. However, SolidWorks is an enormous tool for industrial designing, manufacturing, metal sheet working, fluid dynamics, and machining.
Because AutoCAD offers advanced 2D tools, while SolidWorks presents excellent 3D modeling, simulation, animation, assembly, and part analysis.
SolidWorks is more expensive than AutoCAD. Also, SolidWorks has higher system requirements than AutoCAD.
Related articles: