FreeCAD vs Fusion 360: Which CAD is Best For You? [Compared]

At CNCSourced, we're a team from across the world, united by our passion for everything CNC, laser cutting, and more! We try to publish at least once per week, and we're always up for talking anything DIY and making! Altogether we've written over 150 technical guides, from how to wire stepper motors, to brand-new ways to CNC carve granite with $5. You can read more about us on our about page.
Full disclosure, when I was tasked with writing an article pitting FreeCAD vs Fusion 360 I picked the winner before I wrote word one. I'm happy to admit I was wrong to do so. The match-up was far more even and interesting than I had anticipated.
In preparation for the research I was about to do I tried to add up the number of hours I've spent in various CAD programs over the years. I eventually gave up because it was like counting the stars and I kept losing my place, so eventually, I settled on A LOT.
In that time I've seen many changes come to the industry. To me, the most exciting has been the emergence of free or inexpensive CAD software. The gates have been thrown down. Come and enter, all ye who would make stuff.
It's fun. It's exciting. And it's free to try.
Let's go over the basics of each program so you'll have a good idea of what they can do before we drill down into their differences.
FreeCAD vs Fusion 360: A Quick CAD Comparison
FreeCAD
FreeCAD is an open-source, parametric 3D modeler. That sounds nice. Say it out loud. Impress your friends. But what does it mean? Essentially this. When you use FreeCAD to design something, each change you make stacks upon the last. You can go back and modify any of the changes at any time and those modifications will propagate down the parametric chain.
We'll go into more detail on this later, so don't worry if you're a little confused
Pros
Absolutely, no-strings-attached, free
Open source
Supports Linux
Massive file support including .DXF, .STEP, .IGES, .OBJ, .DWG, .STL
Cons
The U.I isn't super intuitive. Certain tools can be difficult to locate
Somewhat ugly
Fusion 360
Fusion 360 is a CAD program of behemoth proportions. It's capable of modeling, machining, PCB (Printed Circuit Board) design, rendering, and a slew of other features. It's also cloud-based, which makes it a no-brainer for people trying to collaborate.
Though take it from me, make sure you occasionally backup your work. Sometimes the people you collaborate with will accidentally turn your fancy models into something akin to over-cooked spaghetti noodles.
Pros
Powerful and loaded with functions
Similar to programs that cost a lot more
A ridiculous amount of support
Visually pleasing aesthetic
Cons
No Linux support
Free to use is limited
Many of the extensions like machining, generative design, and simulation, are expensive
Ease of Use
When comparing Fusion 360 vs FreeCAD the ease of entry should not be overlooked. You're likely researching free CAD programs because you're either new to CAD or looking to switch from another CAD program. Either way, you want to hit the ground running.
For me, this was the biggest and most unexpected upset. I believed Fusion 360 would be the clear winner. In retrospect, I think I was blinded by my own love of Fusion 360. Now, my eyes have been opened.
I set up a challenge to test how these programs stacked against each other for the new user. Our way-too-energetic new puppy recently chewed the control knob off of one of our box fans.
We needed a new knob and I needed a fairly simple project. I handed my son a pair of calipers, a pencil, and a blank sheet of paper. His objective? Measure the control post… thingy, that comes out of the top of the fan. Then use the remnants of the chewed-up knob and sketch up a new one.
He's twelve. He tried hard and I'm proud of him, but I'm not going to lie and say I didn't have to step in to help out. Anyway, once we got our drawing we sat down and modeled the replacement knob on Fusion 360.
And then again on FreeCAD.
To my surprise, he had a much easier time with FreeCAD. I was dumbfounded. How could this be?
As far as I could tell, it was FreeCAD's simplicity. Unburdened by the staggering amount of choices that Fusion 360 offered, he set about using FreeCAD's basic sketch tools, to instant effect.
Of course, not every new user is going to have a scowling middle-aged mentor guiding them but, even so, FreeCAD just looked easy.
As far as I am concerned, utilizing this very scientific approach, FreeCAD is the clear winner.
(I would show you a picture of the printed part but my nozzle clogged and I haven't had a chance to fix it yet.)
Price
There is price and then there is value. The two should never be confused with each other. While you can't argue with free, you can definitely make the case that enough value can outweigh the cost.
Let's dive in and see which of these two situations might apply to you.
FreeCAD costs nothing. It's also open-source. I use a lot of open-source programs and, while I try to remain appreciative of other people's hard work, I've never once considered contributing. For me, it's because I've never really known what I would add.
While using FreeCad I was met with another unexpected twist. I was swimming around in support articles and watching videos and it suddenly hit me. I was interacting with a community. In the past, as a professional, all the tools I used were impersonal. I've never connected emotionally with a hammer.
This was different. FreeCad's foundation is built with C++, but they talk about how most of the functional stuff is written in the programming language Python. Apparently, it's easy to learn. I have no idea if that's true. But I'm going to find out.
How could I not? I love making things. FreeCAD is offering the chance to help make a CAD program. It's heady stuff.
The point is this. You're probably never going to be on Autodesk's design team. But you can start contributing to FreeCAD right now. As far as tools go, Fusion 360 is the better hammer. But, if I ever got the opportunity to forge my own hammer, even if it was ugly and sorta lumpy, I'd use that thing every chance I got.
If you're the kind of person that feels the same way, I think you should check out FreeCAD.
Now, if you want the best, shiniest, nail-driving, son-of-sledge hammer that you can get your hands on, let me present to you Fusion 360.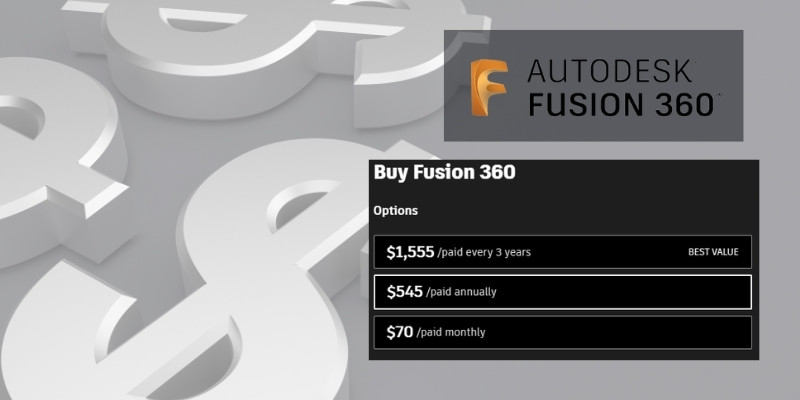 Fusion 360 is free for hobbyists and for non-commercial use. You get some basic functionality and ten active and editable documents. It's the perfect place to start if you're interested.
Where Fusion 360 really starts to shine is in its paid version. The cost is $60 monthly, or $495 a year, or if you're feeling really confident, $1,410 for three years. Also, if you're a new company, 3 years or younger and you have 10 or fewer employees and generate gross revenue of below $100,000 you could qualify to use the program for free.
In addition to the monthly cost, a lot of Fusion 360's more specific and useful tools are locked behind some pretty costly extensions.
There is also a free version for educators and students that stays free for as long as they are eligible. With this comes access to the mobile version of Fusion 360 that will work on a Chromebook. I didn't even know about the mobile version but I find it a truly noble addition to Fusion 360's already stellar job of bringing CAD to the masses. 
| Software | Price |
| --- | --- |
| FreeCAD | Free |
| Fusion360 | Free or paid version of $60 monthly, $495 a year |
System Requirements
FreeCad will run on virtually any PC running a modern operating system. This includes Linux. As far as I could find there aren't any listed minimum requirements. They claim it will run on a Pentium IV! The only thing that is required is that your graphics card or chipset must support OpenGL.
That said, I personally would recommend that you have a 64-bit processor, at least 8GB of RAM, and a dedicated GPU. Even if you could get the thing to start up on a smart toaster, why would you put yourself through the personal anguish?
Fusion 360's requirements are more cut and dry. You'll need either Windows or macOS. A 64-bit processor (32-bit is not supported) 4 cores, 1.7Ghz or greater. They don't list a GPU but you'll want something moderately powerful. CAD programs are graphically intense by their very nature.
If you don't have a PC that will run Fusion 360 I highly recommend looking into the educational subscription they offer. All that is required is a device with a keyboard, a stable internet connection, and a browser. They say even a mouse is optional, but, come on, it's not. Get yourself a mouse, you deserve it.
Key Features
We touched briefly on what parametric modeling is earlier. I said we'd get back to it and I appreciate the trust you've shown by continuing this far.
Both of the programs in this Fusion 360 vs FreeCAD match-up have parametric modeling. The difference is that in FreeCAD it's a fundamental part of the program. Whereas in Fusion 360 it feels like more of a feature.
Let me break it down with an example. Let's say you're making a controller knob for a box fan. I know, I know, just bear with me. You start by sketching a circle that represents the outside diameter of the knob. Then you extrude (FreeCAD calls it "padding" instead of "extruding" and I have no idea why) the sketch into a 3D model.
Then you do a lot of cool things like cutting pockets and holes and adding chamfers and you're almost done, and it hits you. What if you made the knob wider? So wide that it wouldn't fit inside the mouth of the puppy that's hell-bent on destroying everything you ever loved.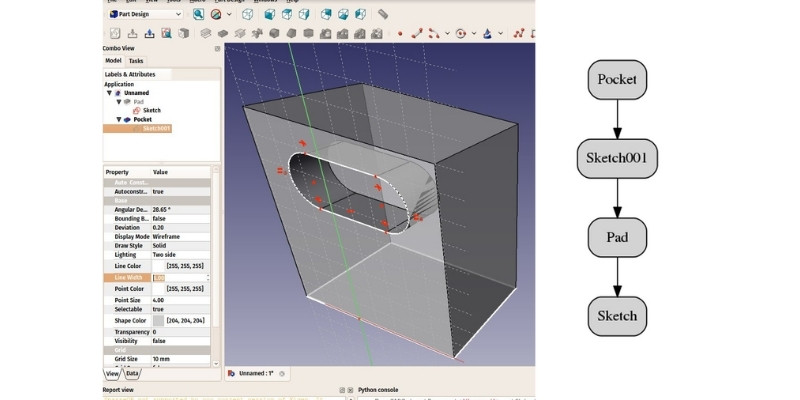 In FreeCAD, this isn't a problem. You can easily go back to that first sketch and change the value of the diameter. Everything done after that goes along for the ride and isn't broken. Viola, parametric modeling. You've saved the day. You're a hero. They throw a parade. There's ticker tape. It does whatever ticker tape does.
Now, you can do all of this in Fusion 360 as well. Make no mistake, it's a better program than FreeCAD if the only metric you're measuring with is capability. If that's the case, then know that Fusion 360 can do anything that FreeCAD can do and a whole lot more.
Fusion 360's sketching systems are more advanced. Its modeling is more dynamic and fluid. Its CAM package is smarter. Its PCB package blows FreeCAD out of the water. The list goes on, and Fusion 360 outperforms in every category.
Applications and Usecases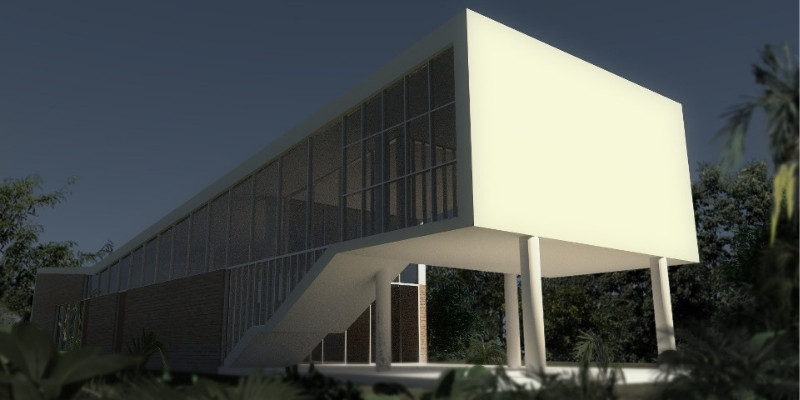 Both FreeCAD and Fusion 360 are used for similar purposes and by similar users. Fusion 360 has a lot in common with Solidworks and Solidedge whereas FreeCAD is similar to AutoCAD.
I've worked in shops that use Solidworks and in shops that use AutoCAD and you would not believe the tribe mentality that builds up around people's program preferences.
There's a silent war being waged on the concrete floors of machine shops all over the world. The stakes are extremely, well, not very high. But, it's interesting to watch.
In this case, Fusion 360 is the program more adopted by professionals. Namely, because it has a professional bearing and a complete suite of tools.
Personally, If I were to start my own business, I wouldn't hesitate to purchase Fusion 360. In fact, it would likely be the first step I took.
Community and Customer Support
Both FreeCAD and Fusion 360 have a dedicated community of users. In FreeCAD's case, it also boasts a lot of contributors. I found many of these people to be knowledgeable, and unselfish in sharing that knowledge.
With Fusion 360, since it's a paid product, you get a lot of official support. Official forums, an official support page, and an official Autodesk support team. There are also so many Youtube videos that it beggars the imagination. Go to Youtube and type in "Fusion 360." Fair travels on your journey. You might be gone for years.
Which is better for you?
The answer is an easy one but I can't make it for you. It almost entirely depends on who you are and what you want out of your CAD software.
Imagine you're comparing two cars.
One has it all. It's flashy, it's bright, it's loud and fast. There are leather seats and they're warm when you want them to be and cold when you don't. There's a backup camera and a check-your-hair camera. It's awesome.
But it's expensive and gets terrible gas mileage and you'll never, ever stop paying for it.
Car number two kind of looks like a lunchbox. There are no speeding tickets in the glove compartment. Instead of cutting-edge touchscreen controls, it's got twisty knobs and big square buttons.
But the thing is reliable. And it runs on faith and goodwill. You'll never have to pay a penny to get where you're going. If there's something you don't like you can roll your sleeves up and change it.
Which one would you choose?
Which is better Fusion 360 or FreeCAD?
Fusion 360 and FreeCAD are both parametric modeling programs. Fusion 360 has far more functionality and is more useful in a broader array of applications. But Fusion 360 comes with a hefty price tag. FreeCAD is more limited but will never cost anything to use. We'll explore which of these programs is best for you.
Related articles: