This is my review of the Carbide 3D Nomad 3, a very compact yet high-quality desktop CNC machine. It's the upgrade to Carbide's Nomad 883 and has plenty of admirers within the space.
There are more hobbyist CNC machines on the market than ever before, which can sometimes mean picking out the perfect model for you isn't always straightforward.
That's why I'm putting my experience of working with many different routers and mills to good use, by reviewing machines and helping you find the right one.
CNCSourced is reader-supported. When you buy through links on our site, we may earn an affiliate commission. Learn more
Carbide 3D Nomad 3 Review Summary
THE REVIEW
Carbide 3D Nomad 3
Great for cutting aluminum
Strong, stable, and durable
Comes with several software packages
Internal light for easy monitoring
Available at:
Carbide 3D has become well known in the hobby for offering some impressive CNC machines, and the Nomad 3 is a great example of that.
This is a really impressive little CNC mill that retails for $2,800 and offers brilliant stability, powerful electronics, and plenty of power for cutting aluminum and stronger metals.
While its small size won't suit everyone, if you're looking for a compact mill to use on small, intricate projects, this is certainly one of the best around.
Throw in the fact that it comes with several different software packages and is compatible with a variety of accessories, and there's plenty of fun to be had with the Nomad 3.
If you want to find out more about the ins and outs of this CNC mill, keep reading. In this review, I'll look at every important aspect of the Carbide Nomad 3, from the build, working area, and axis motion to the electronics, software, assembly, and more.
Size & Working Area
The Carbide Nomad 3 is designed to be a super compact CNC mill that's the perfect size for the home workshop, and with a footprint of just 19"x17.5"x17", it certainly achieves that objective.
It weighs around 65lb, so while it's not as light as cheaper CNC routers, it's light enough you can still move it around relatively easily, so you can tuck it away when you're not using it.
The work area is 8"x8"x3", so this is a mill that's very much designed for small-scale, intricate milling projects.
In contrast, Carbide's popular CNC router the Shapeoko 4 comes in three sizes ranging from 17.5"x17.5"x4" to 33"x33"x4", while another popular router, Inventables' X Carve, has a 29.5"x29.5"x4.5" cutting area.
So, the Nomad 3 is definitely on the small side.
Build & Stability
At the heart of any good CNC machine is a sturdy frame, and the Nomad 3 certainly delivers in this regard.
It's constructed from an all-aluminum frame, which is really stable – enough to machine hard metals.
Its weight, which is pretty heavy in comparison to the size, also helps the mill remain steady and minimize vibrations when in operation. This is partly due to the thick table, which has been purposefully made thicker than the previous Nomad models.
It has a top cover as well as a lockable safety door for increased safety, which prevents dust and chips from flying out and makes for quieter machining.
There are windows on both sides for you to monitor your work, and even internal lighting so that your view isn't obscured by the cover.
It's also one of the most visually appealing CNC mills on the market and is available in three different colors – white, grey, and bamboo.
This is something that's often a secondary priority to many manufacturers, so it's nice to see Carbide has really paid close attention to every aspect of the machine's build, both physical and visual.
Overall, this is definitely one of the best-designed hobbyist CNC machines I've had the pleasure of testing.
Spindle
The 130W spindle used in the Nomad 3 desktop CNC mill is Carbide's own that's manufactured in-house, rather than using a third-party spindle.
It's a pretty impressive component, with angular contact bearings for increased rigidity and a range of 9,000-24,000RPM.
If you're familiar with the Nomad 3's predecessor, the Nomad 883, then you'll know the new spindle is a big improvement.
The 883 had a max RPM of 10,000, so the 3 is more than twice as fast and considerably more powerful. As other reviewers have pointed out, the high RPM allows you to cut metals with smaller tools while also greatly improving efficiency.
The spindle supports 1/8" ER11 collets, and one comes included in the Nomad 3 kit along with a 1/8" ball endmill and a 1/8" flat endmill. The collet supports bits with a diameter of up to 7mm.
Compatible Materials
One of the best things about the Carbide Nomad 3 is the huge range of different materials you can mill with the machine.
Of course, there are soft materials that most hobbyist CNC machines can cut, including different varieties of woods and plastics, bamboo, foam, and graphite limestone, as well as composites like PVC, carbon fiber, and garolite.
You can also use this CNC mill to machine a variety of metals, including both soft metals like aluminum, copper, and brass, as well as hard ones like stainless steel and titanium.
As you can cut soft materials with most hobbyist routers, the higher price of a CNC mill like the Nomad 3 is only really justifiable if you're going to be doing a lot of metalwork.
If you're working with non-metals, you can achieve feed rates of up to 150ipm (inches per minute).
This reduces to around 40ipm for aluminum and 20ipm for tougher metals and as low as 6ipm for the strongest materials like steel and titanium. So, as this video shows, the Nomad 3 can cut ferrous metals, but slowly.
It's worth noting that if you plan on cutting hard metals you'll need to use a coolant to prevent the bit from becoming overheated.
Axis Motion
This CNC mill uses a lead screw mechanism to move each of the X, Y, and Z axis.
This type of mechanism is preferred in CNC mills designed for metalworking due to the high levels of sturdiness, precision, and durability lead screws provide.
In addition, there are anti-backlash nuts on each axis for improved responsiveness and rigidity.
These were lacking on the Nomad 833, which led some users to complain of backlash error, so it's nice to see Carbide has amended this on the upgraded machine.
There are linear guide rails that move the gantries, which offer more efficiency and precision than the V-wheel based systems seen in many other hobbyist machines, particularly routers.
Control & Electronics
The Nomad 3 is controlled by a board based on Atmel 328 with GRBL firmware.
This controller has four stepper motor drivers, although only three are actually used by the mill, the reason being that the controller is the same that's used in Carbide's popular Shapeoko router, which uses four drivers.
There are several interesting electronic components that make the Nomad 3 more user-friendly.
One of the highlights is the automatic tool length measurement, which automatically zeros the Z axis whenever you change tools, making the process easier and removing human error.
You also get a BitZero V2 touch probe with the Nomad 3 that can automatically zero all axes so you can easily find the edge of workpieces.
Each of the axes has a contactless inductive switch which prevents them from clashing with the frame, and there's also a homing switch for automatically homing the mill using the control software.
There is an induction switch on the door of the mill which means the machine can't start with the door open for improved safety.
If you do need to have the door open while in operation, for example, if you need to add lubrication, you need to place the key provided over the door sensor to disable it.
Software: Carbide Create
One thing I really like about this mill is that you get subscriptions to several different CNC software packages included when you buy it.
These include the CAD/CAM software Alibre Workshop, which is only available on Windows, and the CAM software MeshCAM. When you consider that licenses for these software cost $399 and $250 respectively if you were to buy them separately, then it's a pretty good deal.
Alibre is a powerful program that's designed to make it simple to design and refine both 2D and 3D models and then create toolpaths for milling.
It's actually a combination of two different software – Alibre Atom3D, which is the design software, and MeshCAM.
I like that you still get a separate MeshCAM subscription when you buy a Nomad 3, though, as it means you still have a CAM program to easily generate g code from STL files even if you want to use a different CAD software.
On top of that, it also comes with several of Carbide's own programs, including Carbide Create, a 2D CAD/CAM software, and the motion control software Carbide Motion, which you can use to operate your machine.
There's also Carbide Copper, a CAM software designed specifically for milling PCBs.
So, you get a really comprehensive set of different software subscriptions that cover all the bases you need to get started with the Nomad 3 right away.
Upgradability
There are a variety of accessories that you can buy directly from the Carbide 3D site to enhance the performance and usability of the Nomad 3.
One of the most popular is the Nomad threaded table, which costs $120 and contains more than 50 M6x1 threaded holes that provide more ways for you to hold materials down, allowing you to machine a greater variety of workpieces.
Another popular accessory for this CNC mill is the low profile vase, which also costs $120.
This vase is made in-house at Carbide, measuring 2" wide, 8" long, and with a clamping width of up to 6.5", and is another way to secure workpieces to the Nomad, being particularly well suited to cylindrical materials.
There's also the Nomad flip jig, again costing $120.
This is a really useful accessory that makes it possible to cut both sides of a workpiece while maintaining inch-perfect alignment, so it's ideal for making 3D models.
The CNC mill has built-in calibration to locate the jig on the table, so it's simple to attach and use.
You can also pick up a wide variety of minor accessories and replacement parts, including collets, wasteboards, nuts, and threaded inserts on the Carbide accessories page.
Assembly
One thing I was particularly impressed by when conducting this Carbide Nomad 3 is just how easy the CNC mill is to put together.
It really couldn't be simpler, as all the parts come preassembled. So, all you need to do is install the spindle collet and wasteboard and then connect a few wires.
If you have your software downloaded and ready to go, then you can get up and running in around 30 minutes.
So if you're a beginner who'd rather not go to the trouble of spending hours building a machine, the Nomad 3 is a great choice. There's also a really helpful assembly manual included, so you shouldn't have any trouble at all getting this mill set up.
Customer Support
Carbide 3D is a super popular CNC brand, and that's not only due to the high quality of their machines but also due to the great customer service it offers.
If you need to get in touch, you can phone the team on 310-504-3637, with lines open 9am to 4pm PST Monday-Thursday and 9am to 3 pm on Fridays and Saturdays.
Alternatively, you can email [email protected].
The company even offers video call support sessions as well as live training sessions that you can book via the contact page.
On top of that, Carbide has a podcast series on Spotify, iTunes, and other platforms, so this is a company that really engages with its customer base in a positive way.
Carbide offers free shipping on all orders over $50 to the US and Canada and the Nomad 3 has an 18-month warranty. There's also a 'Mistakes on Us' policy, whereby Carbide ship free replacements for any parts that break in the first 30 days of having your machine.
I also found that there is a large, active online community centered on Carbide machines.
There are a wide variety of threads on the community forum where you can find solutions to problems, get inspiration for projects, and discuss other topics.
The Verdict
Carbide is well known for producing some of the best hobbyist machines on the market, and the Nomad 3 certainly continues the trend.
There's no doubt that this is one of the finest hobbyist CNC mills you can buy.
The highlight is probably the fantastic build of this machine. Not only is the all-aluminum frame incredibly sturdy, but the mill is also super compact, safe to use, nice to look at, and even has internal lighting for accurately monitoring your work.
The high levels of rigidity and durability, alongside the powerful spindle and electronics, mean the Nomad 3 is a great metal cutting CNC machine.
I'm also a big fan of the software coverage you get with this CNC mill, including three of Carbide's own packages to cover CAD, CAM, and motion control, as well as subscriptions to two other programs which are otherwise fairly costly.
In truth, it's difficult to find any major faults in the Nomad 3.
The only real limitation is the small cutting area, but it is designed for smaller, more intricate projects. It's also pretty pricey, but you definitely get value for your money.
If you'd like to buy the Carbide Nomad 3, you can pick it up today for $2,800 from the Carbide website.
THE REVIEW
Carbide 3D Nomad 3
Great for cutting aluminum
Strong, stable, and durable
Comes with several software packages
Internal light for easy monitoring
Available at:
Carbide 3D Nomad 3 Alternatives
If you'd like to explore some other CNC routers before deciding on the Nomad 3, here are a couple of quality alternatives.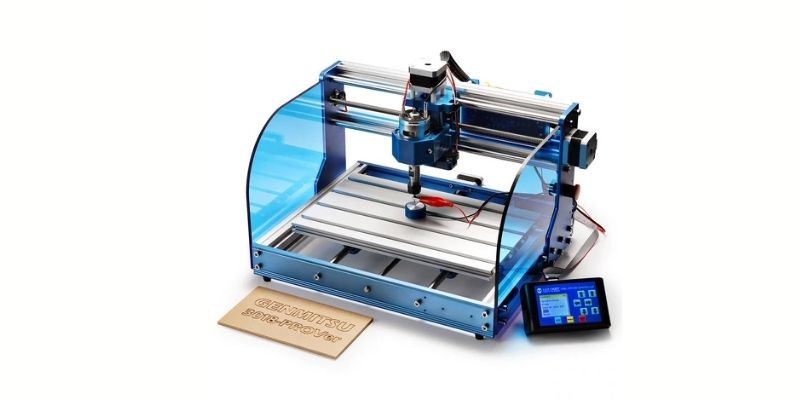 Looking for a more budget-friendly alternative to the Nomad 3? If so, the Sainsmart Genmitsu 3018 PROVer is certainly worth checking out.
This is a super compact desktop CNC router, and while it's not as effective at metal cutting, you can improve this by easily swapping out the spindle, as we explain in our Genmitsu 3018 PROVer review.
On top of that, it's a very stable little router with an all-aluminum frame, has an intuitive offline controller, and is great value for money, so it's very popular among hobbyists.
Carbide Shapeoko 4
The Shapeoko 4 is Carbide 3D's other most popular machine and potential buyers are often caught between the two.
It's a bit cheaper than the Nomad 3 at $2,300, with the main difference being that the Shapeoko 4 is a CNC router rather than a mill.
It offers a larger working area at 17.5"x17.5"x4" but makes some sacrifices in terms of the quality of the components, such as by using V-wheels rather than linear guide rails. This makes the Shapeoko better suited to woodworking and cutting other soft materials, rather than metalworking.
Specs
Size: 17.5"x19"x17"
Engraving area: 8"x8"x3"
Frame material: aluminum
Spindle: 130W
RPM: 9,000-24,000
Collet: ER-11
Motors: stepper
Drive system: lead screw
Control: Online
Input voltage: 110V or 220V
Software: MeshCAM, Alibre Workshop & Carbide software
Operating systems: Windows 8, 10, 11, OS/X 10.14 and above
Connectivity: USB
Other articles you may be interested in: