Laser engraving machines come in all shapes and sizes, so if you're looking for a small laser that's easily portable, you need to pick carefully. If you are on the search for a high-quality, reliable portable laser engraver, you've come to the right place. 
In this guide, we review the best mini laser engravers on the market. We'll look at every important aspect of each machine, from the size and weight to the accuracy and usability, to help you make your decision.
01/31/2023 06:35 am GMT
CNCSourced is reader-supported. When you buy through links on our site, we may earn an affiliate commission. Learn more
The Best Portable Laser Engraver Reviews
Neje Master 2 Mini – Most Affordable Portable Laser Engraver
The Neje Master 2 Mini is one of the most popular and affordable portable laser engravers on the market, with a working area of 110x120mm.
The dimensions of the engraver are 380x215mm, so it's really compact and easily fits in your hand, as well as having fixing holes for securing it to a workbench or other surface.
It comes with a 10W laser diode module with a 0.075mm dot pitch that's capable of cutting a wide variety of different materials, from wood and plastic to MDF, as well as engraving anodized aluminum.
Plus, with it being capable of reaching engraving speeds up to 4,000mm/min, it's a super-fast engraver. You can engrave up to 2mm deep using the Neje Master 2 Mini, so it's not suitable for cutting.
If you want to take things up a notch, this mini laser engraver is also compatible with N25410 and B25425 lightweight CW (continuous wave) modules.
These offer higher performance with finer focuses of 0.03×0.03mm and 0.01×0.01mm respectively, with the latter being particularly effective at engraving grayscale.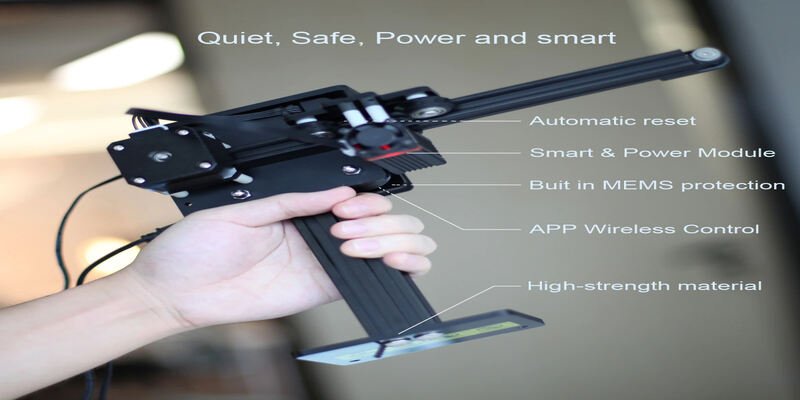 One thing to bear in mind is that Neje laser engravers are only compatible with Neje software.
The software package is decent, but not having the freedom to use your own preferred programs, such as LaserGRBL or Lightburn, may put some people off. 
On the plus side, the Neje software does have some really intuitive features.
For example, it allows you to create designs and control your engraver via the Neje app for iOS, Android, and desktop, and you can even upload pictures directly from your device to easily create engraving designs based on them.
You can also control the Neje Master 2 Mini offline.
This cheap laser engraver itself is also intuitive. You can easily adjust the focus by turning the focus lens, it has a built-in fan and temperature sensor, as well as limit switches on both axes to prevent it from becoming overworked.
There's also built-in MEMS protection, which means the engraver automatically turns off if it's touched or knocked for improved safety.
I also like that Neje has attached a 2-year and 2,000-hour warranty to this model.
Not only is this good customer service, but it shows the confidence the company has in its product. That confidence is certainly justified by the engraver's quality, and with 88% of reviewers on the Neje site giving it 5 stars, this is undoubtedly one of the best small laser engravers you can buy.
Budget Pick
---
Aufero Laser 1 – Mini Laser Engraver with Generous Working Area
The Aufero Laser 1, produced by well-known laser engraver brand Ortur, is another mini laser engraver that's worth considering.
There are three laser module options when you buy the Aufero Laser 1 – the LU2-2, which comes as part of the base kit, the LU2-4S F, and the LU2-4 LF, both of which cost an extra $70. 
The LU2-2 has a spot compression of 0.07×0.06mm and is the finest laser of the three, so it's ideal for making precise, intricate engravings. 
The LUD-4 SF has a wider spot compression of 0.12×0.15mm and considerably higher optical power, making it better for engraving tough materials like anodized aluminum and stainless steel.
Finally, the LU2-4 LF has an air assist novel, a spot compression of 0.17×0.25mm, and a longer depth of field, making it the best option for laser cutting.
This is a "plug and play" small laser engraver, so it's super easy to get set up and requires no complex assembly, unlike with larger machines.
With the Aufero Laser 1, you get a 180x180mm engraving area, which is a fair bit bigger than some other portable laser engravers and gives you more room to work on larger designs.
However, that does also mean the machine itself is a fair bit bigger than most other handheld engravers at 315x422x125mm, so bear this in mind. 
The firmware used in this portable laser cutter is Ortur's own OLF1.8, which supports cutting speeds of up to 5,000mm/min. However, unlike the Neje Master 2 Mini, you're not restricted in the laser engraving software you can use with the Aufero Laser 1.
You can use it with all the most popular laser engraving software like LaserGRBL and LightBurn, and it supports a wide variety of file formats, so you have a lot of freedom in this regard.
I also like that there are some handy accessories and upgrades available from Ortur for this portable laser engraving machine.
For example, you can add a Y axis rotary roller for engraving cylindrical objects, and there's also a Z-height lifting device that makes it easier to adjust the focal distance. 
---
Atomstack P9 M50 – Extremely Powerful & Intuitive Mini Laser Engraver
Atomstack is one of the few brands that manufacture a variety of different portable laser engravers, but it's the P9 M50 model that offers the highest quality.
It offers one of the largest engraving areas of all handheld laser engravers at 220x250mm, giving you a really decent amount of room to work with. This means you can etch significantly larger designs with more detail than you can with most small engravers.
This mini laser engraver has an ultra-fine double spot compression point of 0.06×0.06mm so it's perfect for making intricate engravings, while the 32-bit motherboard provides plenty of power for fast engraving.
According to Atomstack, the P9 M50 can work up to 40% faster than other hobbyist laser engravers.
If you're looking for a laser machine that's capable of cutting as well as engraving, this model is a great choice.
It's extremely powerful, so much so that it can cut wood up to 20mm and acrylic up to 15mm, which is considerably more than most other portable laser engravers. 
It's also very effective at cutting metals, but not just the likes of aluminum.
The double compression spot laser has a significantly higher energy density than your standard mini laser module, which means you can even engrave reflective metals with the P9 M50.
This isn't possible with the likes of the Neje Master 2 Mini, so the P9 M50 is an excellent laser engraver for metal.
The P9 M50 is also a really intuitive machine with numerous features aimed at making your life easier.
For example, the fixed focus laser removes the need for you to manually focus it, simplifying the process and reducing the risk of human error.
It even has an HD touchscreen control system with an ergonomic design, which makes it both really simple to operate the machine without a PC and to monitor your work.
Atomstack has also added some nice safety features to this engraver, such as the built-in horizontal gyroscope which means it automatically stops working if it's tiled more than 20 degrees.
There's also the P9 M40, which is the same machine but uses 40W instead of 50W, making the M50 powerful. The M40 costs around $150 less, so you can save a fair bit but the performance is not as good as that of the M50.
Another cheaper alternative is the Atomstack P7 which is available in both M40 and M50 models.
---
Laserpecker L2 
The Laserpecker L2 is the latest in the Laserpecker series, following the original L1 and the L1 Pro. This is without doubt one of the finest handheld laser engravers money can buy.
This portable laser engraver isn't simply the result of a company churning out a product to make a quick profit. Instead, the Laserpecker L2 was born out of a Kickstarter campaign that has so far raised over $5,000,000! 
The reason the project gained so much support is due to peoples' desire to see a genuinely top-quality handheld laser engraver that can outperform the larger, bulkier machines that dominate the market.
This machine actually comes in four different models:
Basic-Super – $914.20
Pro – $1,084.06
Super-Super – $1,091.98
Deluxe – $1,291.31
The Basic-Super has dimensions of 162.5x60x122mm, while the other three are 194x153x5x236mm, so they're significantly larger.
They also weigh differently, with the cheapest 2.2kg and the Deluxe 5.63kg, so bear this in mind.
In terms of cutting area, the Basic-Super provides 100x100mm, while the others offer 100x2000mm with the third axis rotary roller.
The more expensive models offer more powerful, faster engraving.
Each can be used with a wide variety of materials, from leather, bamboo, and foam to wood, plastics, and soft metals, but you're going to get a cleaner, faster cut with the Super-Super and Deluxe models, the latter of which can cut up to 600mm/min.
The 5W semiconductor laser module is capable of cutting up to 5mm deep. You can easily control it via Bluetooth using the Laserpecker app on your smartphone, so it's very intuitive.
The app supports automatic focusing of the laser, making it simple to get started. 
The Laserpecker L2 models are made from metal and have a matte finish, so they're both very sturdy and well-made machines while also looking the part. 
There is a range of accessories available for the Laserpekcer L2 machines, including a third axis auxiliary booster for cylindrical engraving, and an enclosure with a built-in fan. 
Something I really like is that you can also purchase carrying cases specifically built for Laserpecker machines, as well as a third axis case, from the brand's website. This allows you to carry your engraver parts with top-notch protection.
While the Laserpecker L2 models are impressive and have a lot of potential, bear in mind that as a Kickstarter project they're still a work in progress, and some people have reported issues with the kit.
---
What to Consider When Choosing a Mini Laser Engraver 
We've covered the best portable laser engravers on the market, so now let's take a look at the key factors to consider when picking the right one for you.
Engraving area
Engraving area is always important when picking a laser engraver of any size, but even more so when you're choosing between the small working area of portable ones.
After all, 10mm can make a fairly big difference when it comes to the fine margins of intricate laser engravings.
Some machines have very small differences in this regard, while others, such as the Aufero Laser 1, offer considerably larger engraving areas. Make sure you pay close attention to this, as it will determine the size of the projects you can work on.
Overall size
Sure, a bigger cutting area is great, but you need to make sure your laser engraver is the right size to make it easily portable for you.
For example, the Atomstack P9 M50 is around twice the size of the Neje Master Mini 2, so while it's still portable, it's not quite as convenient to carry around as the smaller model.
Make sure whatever engraver you go for is small enough to fit in a bag that can protect it while you transport it.
Weight
As well as size, it's important to consider the weight of a compact laser engraver, particularly if you're going to be carrying it with you often.
There can be a fair amount of difference in this regard; for example, the Laserpecker L2 weighs more than double the Basic-Super, so this is certainly something to bear in mind.
---
Why Choose a Portable Laser Engraver?
If you search for laser engraving machines online, you'll see that the majority are desktop machines. 
Desktop laser engravers can vary a fair bit in terms of size, but something that's true for all of them – even the smallest – is that they're not exactly easily portable. This is due to their size, weight, and construction making them ill-suited for carrying around.
Enter portable laser engravers. Several manufacturers now offer lightweight, small laser engravers that are designed to operate both as handheld and stationary tools, making them far better suited to transporting. 
These small laser engravers typically have a cutting area of under 200x200mm, with some having close to half that.
For reference, hobbyist desktop engravers typically have working areas of around 400x400mm, such as the Atomstack A5 and Ortur Laser Master Pro 2 range, so portable laser engravers are generally at least half the size. 
Aside from the size, though, they're largely the same as their bigger desktop cousins. Mini laser engravers are still capable of the same precision and cutting speeds as large ones, so you're not limited in this regard. 
Of course, the cutting quality you get will depend on the laser you go for – some cost under $200 while others top $1,000, so there's a lot of variety.
Pros & Cons of Mini Laser Engravers
Being easily transportable isn't the only benefit of having a small laser engraver.
They also allow you to widen your scope and work on projects that would be impossible with a benchtop machine. 
For example, with a handheld engraver, you can etch designs onto larger furniture like doors –something you wouldn't otherwise be able to do. 
On the downside, the smaller working areas of these machines do mean you're pretty limited in terms of the size of the designs you can engrave.
But if you're looking for an easily portable tool for making small engravings, a mini laser engraver is the perfect choice. Now, let's take a look at the top models.
FAQS
How do you use a portable laser engraver?
You use a portable engraving machine much in the same way you use a desktop laser engraver.
You simply need to create your designs using a design software like Inkscape, convert them to g code, send the code to your engraver, and you're good to go.
Can the Laserpecker cut wood?
Yes. The Laserpecker website states that the Laserpecker 2 models can cut wood up to 5mm deep.
Other articles you may be interested in: