Cricut manufactures several lines of popular hobbyist blade cutting machines for cutting vinyl and other materials. However, they have some key issues, and it's important to be aware of the best Cricut alternatives to find the right machine for you.
In this guide, we review these Cricut cutter alternatives, and also explain where they do particularly well, where they lack, and compare other cutting machines that solve issues Cricuts cannot.
All the Alternatives to Cricut
What are Cricut machines Not Good For?
Cricut's aren't bad machines – far from it. They're well made, can cut a wide range of different materials, and the Maker 3 can even cut material sheets up to 12ft long in a single pass.
However, they also have their drawbacks – here are some areas Cricut machines lack:
Price
While Cricut machines are considered some of the best on the market, they come with hefty price tags. For example, the Cricut Maker 3 (Cricut's most powerful model) retails for $429. In contrast, the Silhouette Cameo 4, which is actually more powerful, is over $100 cheaper at $299.
Cricut's aren't necessarily bad value, and the Maker 3 outdoes the Cameo 4 in other ways. However, Cricuts are definitely expensive for hobbyist vinyl cutters, and you can certainly save some cash by going for cheaper Cricut alternatives that still offer quality cutting.
Large-scale production
Cricut machines are primarily aimed at hobbyists making small home craft projects. Sure, you could use a Maker 3 or Explore 3 for a small card-making business or similar venture, but their limited working areas mean they're not suitable for large projects or any serious production quantities.
In fact, there are machines out there (such as the UsCutter MH range we review below) that offer twice the cutting width and 4x the working area of Cricut's largest machines, while still being cheaper.
These are much better suited for larger projects, such as signage and advertisement boards, particularly if you're making them commercially.
Software
Cricut machines run using the brand's own software, Cricut Design Space. On the plus side, the software is intuitive, beginner-friendly, and has impressive features, like automatically scanning and printing drawings, and drag-and-drop designs with live camera previews.
However, there's also downsides. For starters, you have to use Design Space with a Cricut. You can still design projects in other software and import the files, but other than that you need to use Design Space.
Unfortunately, the software is fairly limited in some ways. While it's perfect for simple crafting projects on lighter Cricut machines like the Cricut Joy, more advanced users using a Maker 3 or similar machine may feel a bit restricted.
Another downside is that the fonts, images, and pictures you can use in the software are limited unless you pay for a Cricut Access subscription. Also, while the Cricut Design Space iPhone app is highly rated on the App Store, the Android version is rated just 3.4/5 on Google Play.
Not precise
Some Cricut users complain of accuracy issues. While precision depends on several factors, Some Cricut-like machines, such as the Silhouette Cameo 4, offer greeting cutting force and precision, which is something to consider if you're working on intricate and detailed projects.
Slow cutting speed
Cricut keep it fairly vague when it comes to their machine's speeds. And in fairness, this does depend on factors like the settings and material you're using, but still, they're not the fastest on the market.
The Maker 3 has been shown to cut up to 8 in/s. This isn't bad, but most Cricut models only offer half this speed. The other Maker models can cut this fast but only in Fast Mode, which isn't suitable for intricate cutting.
The Silhouette Cameo 4, one of the best Cricut Maker alternatives, has been shown to cut as fast as 11 in/s. If you go for more commercial machines, like a UsCutter MH, you can cut as fast as 59 in/s. So bear this in mind, particularly if you need to cut a lot of projects quickly as part of a small business.
Not very portable
While it's possible to transport a Cricut to use in different locations, they aren't designed for this. They're fairly hefty machines designed to be used on a desktop, and you risk damaging it if you move it around a lot once it's assembled.
Customer service
Cricut scores poorly on Trustpilot with a rating of just 1.7 stars from over 300 reviews. Now, bad reviews can be disproportionate and often need to be taken with a pinch of salt, but it is worth considering, especially if you're planning on spending several hundred dollars on a cutting machine.
Best Cricut Alternatives
It's important to note that none of these Cricut alternatives are better in every way, but rather they tick some boxes that the Cricuts don't.
Brother ScanNCut SDX125 – Best Overall Cricut Alternative
Pros
Only cutting machine with a built-in scanner
Wide range of built-in designs
Automatic material sensor technology
Operate using 5" touchscreen with stylus
Can cut thicker than Cricuts
Cons
Can't cut long material sheets like the Cricut Maker 3
We believe the Brother ScanNCut SDX125 answers the question of what's better than a Cricut machine for most people.
Where it really outdoes its competitor is in usability. The ScanNCut SDX125 is the only cutting machine on the market with a built-in scanner, allowing you to directly scan drawings, convert them into cut files, and then directly cut them as printed stickers and other projects.
This is a really intuitive feature that lets your creativity flow and simplifies the process for beginners, which is a big plus.
That's not the only great thing about this Cricut alternative, though. It has 682 built-in designs, including 100 quilting patterns and 9 fonts, and intelligent features such as automatic material sensor tech, so you don't need to manually adjust blades and select your material. You can even edit designs directly on the 5" LCD touchscreen display using the stylus.
It also cuts thicker materials with a maximum cutting depth of 3mm, in contrast to the Cricut Maker's 2.4mm.
Now, it's important to note that the ScanNCut doesn't outdo the Cricut Maker 3 in all areas. For example, it has an 11.7" cutting width, slightly smaller than the largest Cricut models, and with a cutting length of 24", it can't match the 12ft cutting length offered by the Cricut Maker 3 and Explore 3 (when using Cricut Smart Materials).
However, it certainly offers some great benefits that Cricuts don't, and is worth considering for anyone looking to buy a new cutting machine.
---
Bira Craft Die-Cutting – Cheapest Cricut Alternative
Pros
Very cheap
Available in three different sizes
Good power for small machines
Well reviewed by users
Perfect for small craft projects
Cons
Limited to soft materials
Small working areas
The hardest part of buying any kind of machine isn't necessarily finding the best one, but finding the best value. Sure, Cricut's are impressive, but if you only need certain features you're on a budget, this pick saves you cash.
A cheaper version of a Cricut worth considering is a Bira Craft Die Cutting and Embossing Machine. The cheapest version starts from just $39.99, making it over $100 cheaper than the cheapest Cricut (Joy), which retails for $189.99.
Is a Bira Craft Die Cutter a better machine than a Cricut Joy? No. But, it's still a good budget option that saves you money on small tasks.
The $39.99 model has a 3.125" feeding slot for cutting paper and other soft materials, such as thin cardstock. It's not really suitable for vinyl cutting, but the 6" and 9" models are, which retail for $109.99 and $139.99 respectively – still a fair bit cheaper than Cricut machines.
These larger models can also be used to cut fabrics and other materials, and they're all great budget options for creating small projects like cards, invitations, home decor, quilting, and more.
They're also well reviewed, each having at least a 4-star rating on Amazon, which is pretty impressive for such budget off-brand Cricut machines. Users often compliment their portability and power alongside great value for money.
---
Silhouette Cameo 4 – Best Cricut Alternative for Precise Cutting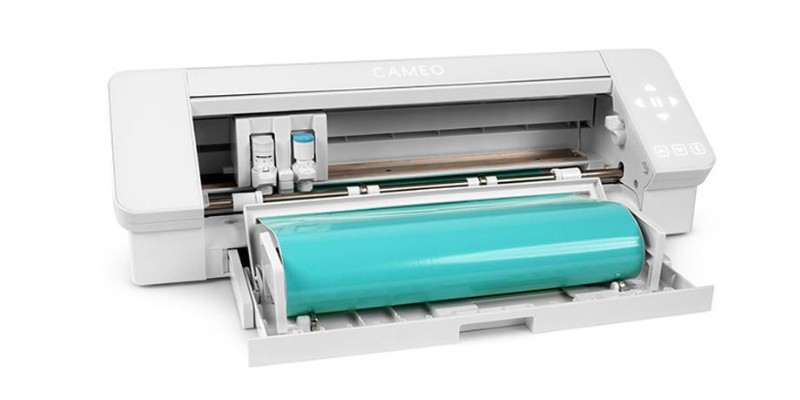 Pros
More cutting force than Cricuts
Available in three sizes
Very precise
Highly intuitive software
Built-in roll feeder and cross cutter
Cons
More limited cutting length than Cricut Maker 3
The Silhouette Cameo 4 is a main Cricut competitor and is broadly similar, although it has some key advantages. One of those is its precision.
Some Cricut users complain that their machines lack in accuracy. While precision depends on calibration, your project, and the materials you're working with, the Cameo 4 is undoubtedly one of the most accurate on the market.
This is largely due to its extremely impressive downward force of 5kg, which outdoes Cricut's most powerful model (the Maker 3), by a whole 1kg. Not only does this result in better accuracy, but also faster cutting (up to 11 in/s) and the ability to cut thicker materials.
Other nice features include the built-in roll feeder for easily loading rolled materials like vinyl and heat transfer and the cross cutter that allows you to trim these materials directly from the roll.
With automatic tool detection, wireless Bluetooth connectivity, a backlit touch panel, and the intuitive companion software, Silhouette Studio (which is also available as an app), the Cameo 4 is very user-friendly.
It's available in three sizes – 12"x10", 15"x10", and 24"x10" – so you've got options. Although it can't match the Maker 3 and Explore 3's 12ft cutting length, it does come close, with a maximum cutting length of 10ft. The 24" model is pretty expensive at $499.
Overall, the Cameo 4 and Cricut Maker 3 are fairly even, although the former comes out on top in power and precision.
Silhouette Cameo 4 Starter Bundle
This is a high-end, cost-effective option if you're searching for a home vinyl cutter that can manage the needs of a small business.
Amazon here
We earn a commission if you make a purchase, at no additional cost to you.
12/03/2023 10:12 am GMT
---
Silhouette Portrait 3 – Best Cricut Alternative for Small and Detailed Projects
Pros
Ideal for intricate projects
Compact yet offers impressive cutting range
Automatic tool detection and blade level setting
Matless cutting
Can draw and sketch using pens
Cons
Limited to soft materials
The Silhouette Portrait 3 is a solid alternative to Cricuts if you're looking to work on small and intricate projects with high precision.
It has several tools to help you create detailed work with fantastic accuracy. For example, the automatic tool detection function instantly adjusts your software settings depending on which tool you put in the machine, while the AutoBlade automatically sets itself at the optimal level for cutting once you select your material type.
This is a very compact cutting machine that's more portable than most Cricuts, and is ideal for taking to craft events, clubs, and classes. It has an 8" cutting width, although it can cut up to 10ft in length using the Silhouette roll feeder, which is pretty impressive.
The Portrait 3 also supports matless cutting for more creative freedom, and it's compatible with a variety of materials, including vinyl, cardstock, sticker sheets, and more. Using the Print & Cut and Portrait features is a great way to create custom stickers, heat transfer decals, and even temporary tattoos!
You can even have this machine use pens to draw and sketch custom artwork, which Cricuts (and most other cutting machines) don't support.
It's super easy to operate the Portrait 3 using the Silhouette Go mobile app, which is really user-friendly. This cutting machine like Cricut supports wireless Bluetooth for easy connectivity.
---
UsCutter MH 14-inch – Best Cricut Alternative for Large-Scale Projects and Commercial Use
Pros
Available in 4 sizes
Cut large products for small businesses
Very fast
Great value
Free VinylMasterCut license
Cons
Slightly less powerful than some Cricut's
Not compatible with Macs
Cricuts are limited to 12ft length cutting (on the Maker 3 and Explorer 3), and this extended cutting length only applies if you're using Cricut Smart Materials – and both machines have maximum cutting widths of 13".
So, if you're looking for a machine similar to Cricut in quality, yet much better suited to large-scale, commercial use, look no further than the UsCutter MH range.
There are four different cutting widths available: 14", 28", 34", and 54". So, while there's minimal difference with the 14", the others are all significantly larger than all available Cricut machines.
On top of that, they all support up to 8ft cutting lengths, only 4ft short the Maker 3 and Explore 3's maximum cutting length, without being restricted to Cricut materials.
The UsCutter MH range also offers great value – you can pick up the 28" model with a stand for $349.99 (less than a Cricut Maker 3), while the largest retails for $549.99. So, you get a significantly larger cutting area without spending much more.
This is perfect if you're producing products like signs, advertisements, vehicle decals, and window graphics commercially, and they're also ideal for making wall and glass art.
They're slightly weaker than the most powerful Cricuts, with a 350g cutting force, but super quick with up to 39 in/s cutting speeds. You also get a VinylMasterCut software license thrown in for free, which would cost you $59.99 otherwise.
---
Crafter's Companion Gemini Go – Best Portable Cricut Alternative
Pros
Compact cutting machine for maximum portability
Very light
Good for small craft projects
Can be used outside with booster table
Protective case and bags available
Cons
Fairly limited cutting ability
Cricuts, like many similar machines, are not designed to be regularly transported. Luckily, there are portable Cricut alternatives, my favorite being the Crafter's Companion Gemini Go.
There are several ways it achieves this. First, the Gemini Go is super compact, with a 3"x6" platform size, and can easily be picked up in your hand, so it's ideal for working on small crafts like mats, frames, and sentiments. It's also super light, weighing just 4lb.
On top of that, you can use it with an external power source (12V, 1.5A) thanks to the Gemini Go battery booster cable. So whether you want to take it to craft groups, use it in the garden on a sunny day, or even on holiday, the Gemini Go allows you to craft from many different locations.
Gemini even offers accessories for transporting your machine, including a protective case and carrying bag, which are both reasonably priced.
It can cut a variety of different materials, including cardstock, vinyl, fabric, thin balsa wood, and most thin metal dies. Overall, this is a solid option for anyone looking to craft on the go.
---
xTool M1 – Best Multi-Purpose Cricut Alternative
Pros
Blade cutter and laser in a single machine
Highly precise engraving
Can work with metals
Rotary option or engraving circular objects
Intuitive software and high res camera
Cons
Working area limited to 15"x11.8"
While the Cricut type machines we've covered so far are all blade cutters, the xTool M1 is a different beast altogether. In fact, it's one of the most unique machines on the market, as it's a blade cutting and laser machine in one (xTool actually claims it's a world first).
The M1 brings you all the benefits of a cutting machine alongside the wider possibilities of laser engraving. While you can engrave with a Cricut using the engraving tip add-on, a laser provides more precise engraving and etching across a wider range of materials.
With an ultra-fine 0.08×0.08mm laser spot, it's ideal for making fine and intricate engravings on everything from jewelry to home decorations.
It's also effective for cutting. The M1 combines two 5W laser beams into one for a 10W output, allowing you to cut 3mm acrylic and 10m wood in a single pass, whereas a Cricut Maker can only cut up to 2.4mm deep. Obviously, this isn't as powerful as some lasers, such as the xTool D1 Pro 20W which I own and have reviewed on CNCSourced. But it's a great 2-in-1 option for cutting and engraving.
Perhaps the most significant difference between the M1 and a regular blade cutter is that you can use the laser to engrave non-reflective metals like anodized aluminum, stainless steel, and other coated metals, which greatly widens the scope of your potential projects.
In addition to the laser, the high-quality blade (which is attached to the same component as the laser, so you don't need to manually switch between tools) is perfect for cutting vinyl, fabric, leather, and other materials for working on apparel and similar projects.
Another benefit is that you can buy a rotary module for the M1 laser for working on rounded objects like mugs, tumblers, and glasses. It even has a 16MP high-res camera for visualizing your workspace, alongside xTool's intuitive XCS software that offers real-time previews.
---
Glowforge Pro – Best Laser Cutting and Engraving Machine Alternative
Pros
Powerful 45W CO2 laser
Unlimited cutting length
Very fast cutting and engraving
Enhanced cooling for high efficiency
Precise down to 0.025mm
The Glowforge Pro is a CO2 laser cutter marketed as a '3D laser printer'. Unlike the M1, it doesn't have a blade-cutting tool, but it's a very powerful laser machine that's ideal if you're looking for a premium alternative to Cricut.
Whereas the M1 uses a 10W diode laser, the Glowforge Pro boasts a 45W CO2 laser. CO2 lasers are more powerful than diodes, and with over 4x the wattage, the Glowforge Pro offers significantly faster and deeper cutting, capable of quickly knocking out projects if you're selling them in serious quantities as a laser for small business.
It can cut and engrave the same materials, but Glowforge also offers their Proofgrade materials specifically optimized for their machines. Glowforge automatically adjust to the ideal settings for these materials, simplifying things.
Perhaps the most unique part of the Glowforge Pro is that it supports unlimited cutting length via its passthrough slot. This is rare for laser cutters, and means that the Glowforge Pro outdoes the Maker 3 and Explore 3's 12ft cutting length.
The Glowforge Pro also outdoes the Cricut and many other competitors when it comes to precision, with an engraving accuracy of 0.025mm.
As well as the Glowforge Pro, there's also the Glowforge Basic ($3,995) and Glowforge Plus ($4,995). They're fairly similar, although they both use slightly weaker 40W lasers and they don't have a passthrough slot. The Glowforge Pro is 3x faster than the Basic, and 2x faster than the Plus.
Of course, these are all a lot more expensive than Cricut machines, but the Pro, in particular, is a worthy alternative to consider for small business owners. You can read our Glowforge vs Cricut comparison to learn more about how these machines stack up or Cricut vs Laser Cutters.
Glowforge Pro
Glowforge are the easiest to use lasers for home business owners looking to create cool projects and sell them on Etsy or other stores and make money.
Glowforge here
Dynamism here
We earn a commission if you make a purchase, at no additional cost to you.
---
Things to consider when buying a Cricut Alternative
Consider Long Term Costs
Blade cutting machines incur maintenance costs over time, primarily with replacing the blades when they get worn out. This may need to be done every few months if you're doing a lot of cutting, so you need to consider your machine's durability – and maintenance costs.
Some alternatives like Cricut but cheaper may not offer the same durability. Also, while Cricut blades are relatively cheap to replace (typically costing under $40), replacement blades for other machines can be less readily available online and potentially more expensive, so bear this in mind.
Speed & Performance
Everyone wants a fast cutting machine, and it's especially important if you use it as part of a small business and have high production rates. Now, the Cricut Maker 3 offers a pretty solid cutting speed of up to 8 in/s, but cheaper Cricuts are a fair bit slower.
The Cameo 4 has been shown to outspeed the Maker 3, and more commercial vinyl cutters like the UsCutter MH range can cut significantly faster.
There's also accuracy and cutting strength. Again, the top Cricuts have decent cutting force and accuracy, but they are outdone in these areas by some competitors, such as the two mentioned above.
Size and Portability
Many blade-cutting machines, including Cricuts, are not designed to be portable. While they're not huge, their size and weight make it awkward to regularly switch them around to different locations, and if you're not careful you could easily damage your machine.
So if you're looking for more portable machines, one of the best examples is the Crafter's Companion Gemini Go, which is super compact, light, and designed for people who need to prioritize portability and for who space is at a premium.
Software Complexity
Cricut's Design Space software is intuitive and easy to use, but this can't be said about all cutting programs. While the likes of Silhouette Go are also intuitive, if you go for an alternative like the UsCutter MH, you'll need to use a third-party software such as VinylMasterCut.
These programs are generally a bit less user-friendly than programs like Design Space that are optimized to work with specific machines. Plus, while you get a free license if you buy a UsCutter MH, often with other cutting machines, you'll need to either pay for a third-party vinyl cutting software or use a free option.
Reasons to Buy A Cricut
While this article has focused on machines that are better than Cricut models in certain areas, it's important to note that there are many things that Cricuts do well. Here are the main reasons to still consider buying a Maker 3, which is Cricut's finest model.
Usability & Reliability
One of the reasons behind Cricut's success is that its machines are very well-made, safe, reliable, and user-friendly. You know that you're getting a solid product, unlike many unreliable Cricut dupes from smaller brands.
The same goes for Cricut's software, Design Space, which is well-designed and easy to learn. Other products often have less impressive software or require you to use third-party programs. Using third-party vinyl cutting software is fine, and we've had great experiences with many, but it still adds to your workflow.
Versatility
Cricuts are versatile, both in the projects you can make, and what materials you can cut. The Maker 3 can cut, emboss, and even engrave using the right tools, something that can't be said of all Cricut machine competitors.
The top Cricuts, like the Maker 3, can also work with a wide range of materials, including wood, which again isn't something that other similar machines offer. There's also the benefit of Cricut Smart Materials, which are designed specifically for Cricuts and can help produce more optimal results.
Customization
Cricut offers a wide variety of accessories for its machines that allow you to widen the scope of your projects. There are different tools and blade types for different projects, such as the deep-point blade for deeper cuts, the fine-point blade for more intricate precision cutting, and the engraving tip for engraving and etching.
Overall, these machines certainly offer a lot more customization than many Cricut knockoffs.