Cricut is a popular brand for craft making that uses blades to cut a variety of materials. Laser cutters are another type of machine used in crafting and DIY projects, but there are some important differences between the two to consider when deciding which is best for you.
In this Cricut vs laser cutter guide, I'll explain the differences between each type of machine, their respective pros and cons, and explain how the Cricut stacks up against some of the most popular laser engravers on the market.
Cricut vs Laser Cutters: Which is Best For You?
Before we take a more in-depth look at the Cricut vs laser cutters, here's a look at the key points to consider.
Key Differences Between Cricut and Laser Cutter
Comparison Point
Cricut
Laser Cutters
Compatible materials
Primarily paper, cardstock, fabric, vinyl, leather.
Some woods and acrylics if using correct blades and settings.
Paper, cardstock, fabric, vinyl, leather, bamboo, ceramics, glass, acrylic, plastics, wood, metals (if more powerful), and silver, gold, platinum if using infrared or fiber laser.
Working area
Up to 13"x12" standard with Cricut Maker 3, 13"x12ft when using Cricut Smart Materials
Typically under 500x500mm for hobbyist and small business cutters
Can engrave as well as cut?
Yes (with accessory)
Yes
Cricut and Laser Cutters comparison
Cricut vs Laser Cutter: A Quick Summary
Here's a quick introduction to each machine and how they work.
What is Cricut?
Pros
Popular and versatile.
Intuitive and user-friendly.
Affordable.
Cons
Premium designs and tools need to be purchased separately.
Not compatible with Android devices.
Cricut is a brand that manufactures several different models of blade cutting machines. They're primarily based at beginners, hobbyists, and home-based small businesses and are most commonly used to cut light and mid-weight materials.
What is a Laser Cutter?
A laser cutter is a machine that uses a laser beam to engrave and cut by vaporizing the surfaces of materials. There are diode, CO2, infrared, and fiber lasers, with diodes generally being the weakest and fiber lasers the strongest. All but pulsed fiber lasers will struggle with the strongest and most reflective metals, such as gold.
We'll compare Cricut cutters with diode lasers, as they're the most similar in price and performance.
Comparison Between Cricut Machines and Laser Cutters
Laser cutters can vary a lot in terms of power, speed, and usability. As such, we're going to compare the Ortur Laser Master 2 (one of the most popular laser cutting machines) against the Cricut models to give you an idea of the key differences.
Material flexibility
Perhaps the biggest and most significant difference between Cricut machines and laser engravers is the type of materials you can work with.
As a blade-cutting tool, the Cricut is primarily designed for cutting soft materials like felt, vinyl, and card. Some Cricut models (such as the Maker 3) can cut harder materials, such as balsa wood and leather, with the correct blades and settings. You can also use your Cricut as an acrylic cutter for certain types of acrylic that are up to 2.4mm thick.
If you want to engrave rather than just cut, you can purchase a Cricut engraving tip separately. This is capable of engraving a variety of materials, including woods, acrylic, and soft metals like anodized aluminum.
A laser engraver's material compatibility depends largely on its power (wattage). 5W lasers and below are typically used for engraving wood, acrylic, and similar materials, but high quality 10W lasers like the Laser Master 2 Pro S2 are also capable of engraving stainless steel.
This machine uses a diode laser, but infrared and fiber lasers are even better at metal engraving and can engrave highly reflective metals like gold (although these are also a lot more expensive).
The Laser Master 2 is also very versatile thanks to its great cutting ability, being able to cut 10mm in acrylic and 12mm in wood with a single pass.
So, while there's lots of variation between models, laser engravers typically offer more material flexibility than Cricuts and are more suitable for working with wood and metals.
Cost
Cricut machines are currently selling for the following prices:
So, there are budget and more premium options available, although they're all cheaper than the Laser Master 2 Pro, with the base kit retailing for $499.99.
There are vinyl cutters cheaper than Cricuts and more budget laser cutters that are cheaper than Ortur models, but these brands are some of the best in the business and provide great support alongside high quality, reliable machines.
Generally, high quality laser engravers are more expensive than Cricut machines, but this is partly due to the fact that they offer wider capabilities (particularly metal engraving). However, if you're not particularly interested in wood or metalwork, then you may find better value in a Cricut.
Working area
Most home laser engravers typically have relatively small working areas of under 15"x15", which is the same for most Cricut models. However, the exception is the Maker 3 and Explore 3 – if you're using Cricut Smart Materials.
These are Cricut's own materials designed specifically for the Maker 3 and Explore 3 machines and can be fed in directly without a mat. Using these materials with either of these two Cricut machines allow you to cut up to 12ft of material at once, so they allow you to work on considerably longer projects with more ease than a laser engraver.
Operator skill level
One of the main benefits of the Cricut machines is that they're built specifically for beginners. You can start cutting within minutes after setting a Cricut up and connecting it to your laptop, the Cricut Design Space software is very intuitive and easy to learn, and you can even operate it from your smartphone.
Cricuts are easy to assemble, and the company provides great customer support, which is always helpful if you're a novice.
Laser cutters typically require a bit more skill than a Cricut, both in terms of setup and operation. There are also more safety risks involved due to the fumes emitted from laser engraving metals, plastics, and other materials, so you need to make sure you're operating safely. Enclosures can help with this.
Also, many laser cutter brands, including Ortur, don't provide their own laser engraving software. Instead, you need to use a separate program like Lightburn or LaserGRBL. These have steeper learning curves than Cricut Design Space, and some also require payment.
Accessories & Upgradeability
Both Cricut machines and most laser engravers come with a variety of accessories. As well as the engraving tip we've already mentioned, Cricut offers a wide variety of different blades for working with different materials.
For example, the deep-point blade is ideal for posterboard and heavy cardstock that's 1.5mm thick, the knife blade is suitable for denser materials like balsa wood so it's a good add-on for a Cricut wood cutter, and the fine-point blade offers precision cutting on medium-weight materials like vinyl.
Other Cricut accessories and tools include infusible ink pens, a foil transfer kit, a weeder, a stylus, a debossing tip, and various machine mats.
The Laser Master 2, like many laser cutters, has a similar range of accessories and upgrades. For example, it's compatible with four different laser heads made by Ortur.
The LU2-2 is great for high precision pattern engraving, the LU2-4-SF is for engraving harder materials, while the LU2-4-LF is ideal for cutting thanks to its long depth of field. Finally, the LU2-10A is the most powerful and finest laser for unrivaled accuracy and speed.
Many laser cutters are also upgradable using rotary modules, which allow you to work on circular objects – something you can't do with a Cricut.
In conclusion, both types of machine have many accessories, although you can probably make more significant changes and upgrades to a laser cutter. However, laser upgrades are also a lot more expensive.
Maintenance cost
Neither Cricut models nor laser engravers typically have particularly demanding or expensive maintenance requirements, although both will require you to periodically change the tool you're using.
As Cricuts use blades, they need to be changed more regularly. How long depends a lot on what materials you're working with and how often you're using it, but the blades typically last at least 3-6 months before needing to be changed, and can last longer with proper cleaning. Luckily, they're very cheap to replace, with most costing under $30.
The lasers on machines like the Laster Master 2 last a lot longer, with 10,000 hours being the typical lifespan. However, they're also a lot more expensive to replace, with a 10W laser head likely going to cost over $200.
Operational safety
Cricuts are very safe to use. You do, of course, need to be careful when handling the blades and ensure the machine is turned off whenever you're doing maintenance, but they are certainly safe to operate.
Laser engravers are also safe if used correctly, but there are more precautions to take. For starters, the laser beams can affect your eyes, so while machines like the Laser Master 2 have safety cases around the laser, it's important to bear in mind and you may also want to wear laser protective goggles.
Good quality laser cutters also come with flame detection, buzzer alarms, and emergency stop buttons, but you also need to be wary of fumes given off when working materials like plastics and metals. These can be toxic, so it's important to have a proper ventilation system in place for these materials.
Cricut vs laser cutter for DIY projects
Whether a Cricut or laser cutter is better for DIY projects completely depends on what you want to make. The Cricut machines are perfect for small craft projects using materials like vinyl and card, while laser cutters are most suitable for working with materials like acrylic, wood, and metals.
Cricut vs laser cutter for small business
Again, this is largely dependent on what you make in your business and how fast you need to work. You can certainly maintain a small craft business with a Cricut, although a laser may be more suitable if you want to scale by working with a wider variety of materials or at faster speeds later down the line.
Cricut vs Laser Cutters and Engravers: Popular Models Compared
Now let's take a look at how the Cricut compares to some other popular laser cutters.
Cricut vs Aufero
Pros
Comes fully assembled.
Great value and is cheaper than the Cricut.
Cons
The Aufero 1 is fairly limited.
The Aufero 1 and Aufero 2 are two other laser cutters by Ortur. The Aufero 1 is a very small 5W cutter with a 180x180mm engraving area that comes fully assembled. It costs just $209.99 and is a great entry-level laser for novices.
The Aufero 2 is essentially a larger, faster, and more powerful version. It's available with 5W and 10W lasers, cuts three times faster (15,000 mm/min vs 5,000 mm/min), and provides a 390x390mm working area. It costs just $50 more at $269.99, so unless you're looking for a small engraver for maximum portability, then it's probably better value than the Aufero 1.
While the Aufero 1 is fairly limited, the Aufero 2 offers great value and is worth considering against a Cricut, especially since it costs less than the Maker models.
---
Cricut vs xTool D1 Pro
Pros
Highly precise and incredibly fast.
Great for more demanding materials.
Multiple choices for laser power.
The xTool D1 Pro is a premium diode laser that will set you back $699.99. It has an industrial-grade all-aluminum frame for maximum stability, a dual compressed laser beam that's highly precise, and is incredibly fast with the ability to engrave at up to 24,000 mm/min.
It's available as 10W and 20W, and on top of that there's an optional infrared laser head. This can be used to engrave metals like gold, silver, and platinum so is great for jewelry etching and other similar tasks, although bear in mind this is an expensive accessory.
The differences between the Cricut and D1 Pro are fairly drastic, with the latter being designed more for demanding work with harder materials than the Cricut. Check out our xTool D1 Pro review to learn more about this impressive model.
Best diode pick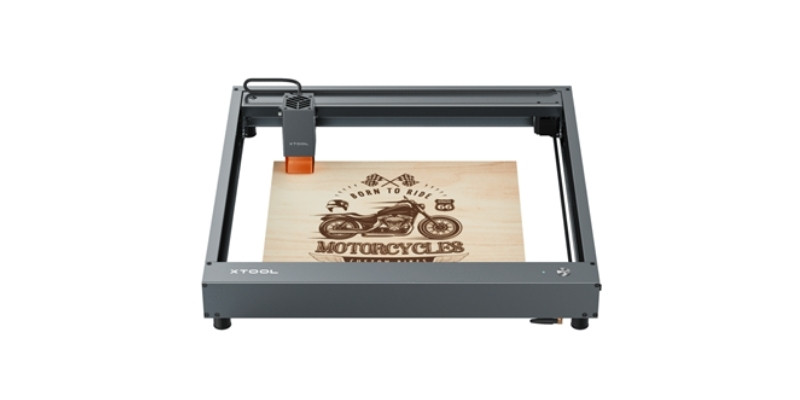 ---
Cricut vs Atomstack A5 M30
Pros
Well-made, safe, and powerful.
Great engraving accuracy.
Suitable for cutting many materials and even engraving certain metals.
Cons
Some people have problems with its cutting performance.
Atomstack produces a variety of different lasers, although the A5 M30 is its most popular model. This is a well-made, safe, and powerful 30W laser cutter that's suitable for cutting many materials and even engraving certain metals, such as stainless steel.
It boasts a highly compressed laser focal spot that's 50% smaller than many other lasers, which translates to 0.01mm engraving accuracy. Unlike many other budget lasers, it uses an integral screw rod and stepper motor instead of combined coupling, which makes for more precise linear movement and improved durability.
If you like the look of this model but want more power, there's also the A5 M50 Pro which has a more powerful 40W laser.
---
Cricut vs Orion Motor Tech 40W
Pros
Powerful.
Can work with lots of materials.
Provides a generous working area.
Achieves fast and deep cuts.
Cons
Aside from anodized aluminum, it's not suitable for metalwork.
Orion Motor Tech is another reputable laser cutter brand and its 40W CO2 laser cutter is more powerful than most of the others we've looked at so far.
You can work with loads of different materials with this laser, and its considerable power is great for achieving fast, deep cuts with wood, acrylic, fabric, leather, glass, ceramics, rubber, tile, plaster, and more. However, aside from anodized aluminum, it's not suitable for metalwork.
It provides a generous 300x200m working area that's enclosed within a compact case for maximum safety, and since it has a digital control panel it can be used offline without needing a computer or WiFi.
The Orion Motor Tech 40W is a good option if you're looking for a very powerful yet compact home laser engraver for working with medium-weight materials. We've also written a more in-depth review of K40 lasers.
OMTech 40W CO2 Laser Engraver K40
This machine is likely the most sought-after entry-level CO2 laser cutter on the market, and because of its 40 W laser tube, it's also a popular entry-level glass engraver.
Amazon here
We earn a commission if you make a purchase, at no additional cost to you.
---
What are some Alternative Vinyl Cutters to Cricut?
So, is Cricut the best cutting machine? While the Cricut models are among the best vinyl cutters, it's also worth considering other options – here are two top ones.
Silhouette Cameo 4
Pros
Powerful, fast, precise, and easy to use.
Works with a variety of different materials.
More download force than Cricut Maker 3.
Cons
Slightly more expensive than Cricut Maker 3.
Cricut has more tools and accessories available.
The Silhouette Cameo 4 is one of the main rivals to the Cricut Maker 3 and there are many similarities between the two.
Both are powerful, fast, precise, and easy-to-use vinyl cutters with intuitive software that can also work with a wide variety of other materials. The Cameo 4 has slightly more downward force (5kg compared to the Maker 3's 4kg) and is available in three sizes.
The standard Cameo 4 has a 12"x10" maximum cut size. However, there are also the Cameo 4 Plus and Pro models, which offer maximum cut sizes of 15"x10" and 20"x10", respectively.
The Maker 3 has a cut size of 13"x12", but if you're using Cricut Smart Materials, you can cut projects up to 12ft in length, matt free.
There are more accessories and tools available for Cricut machines, and although it's probably a better machine overall, it's also more expensive.
Silhouette Cameo 4 Starter Bundle
This is a high-end, cost-effective option if you're searching for a home vinyl cutter that can manage the needs of a small business.
Amazon here
We earn a commission if you make a purchase, at no additional cost to you.
12/03/2023 10:12 am GMT
---
Vevor Vinyl Cutter
Pros
Beginner-friendly.
Large and powerful.
Highly accurate and is one of the faster on the market.
While both the Cricut and Cameo models are designed as beginner-friendly, home cutters, the Vevor Vinyl Cutter is a larger, more powerful model geared more towards small business owners.
An upright (rather than desktop) machine, this vinyl cutter has a maximum paper feed of 53.1" with a cutting width of 49.6". So, while it doesn't match the Maker 3's feed length, you can work on much wider projects.
It's highly accurate with a paper feed precision of 3mm and cutting precision of 0.001mm, and with up to 800mm/s cutting speed, is one of the fastest on the market.
This cutter is also highly adjustable – you can adjust the speed all the way down to 10mm/s, while cutting pressure can vary from 10-500g, depending on the materials and projects you're working on.
Vinyl Cutters vs Laser Cutters
The fundamental difference between vinyl cutters and laser cutters is the cutting tools used – blades in the former, and laser beams in the latter.
The main consequence of this is their material suitability. Vinyl cutters are optimized for working with vinyl and are also good for other soft materials like card and fabric, whereas lasers are more suited to working with materials like leather, plastics, wood, and metal.
Other important factors, such as cutting precision, speed, customizability, usability, and software, are all highly depending on specific models. Some vinyl cutters can outdo laser cutters in any category and vice versa. In general, vinyl cutters are cheaper than lasers.
So, make sure you look at the specifications of any model you consider before making a purchase.
FAQs
What are some advantages and disadvantages of Cricut and laser cutter machines?
The Cricut machines are beginner-friendly blade cutting machines that can work with a wide variety of soft and medium weight materials. They're affordable, intuitive with impressive software, precise, and fast, although they're not ideal for wood, acrylic, and metal working. Laser cutters are better for working with harder materials, although they're typically more expensive, take more time to learn, and have more safety precautions to take. 
What are some safety precautions when using Cricut and laser cutter machines?
The main safety precaution to take when using a Cricut is to be careful not to cut yourself on the blades. With laser cutters, you need to ensure you have proper eye protection, flame detection, and a ventilation system if you're cutting fume-emitting materials like leather, plastics, and wood.
Related articles: