CNC machines have a thousand uses. From modern-day sculpting to wood carving and engraving, there seems to be no limit to what CNC can do for us in both personal and professional ways.
Engraving wooden signs has been a time-honored tradition for centuries. From welcome signs in homes, door markers, or businesses, CNC signs have paved a new way for us to get quality displays without needing to take up sculpture or advanced carpentry.
While there are plenty of places like Etsy where you can simply buy custom CNC signs, if you've got the right equipment then there's no reason not to give it a go yourself! Whether you want a sign for your place of business, or simply want to spice up your home with something unique and special, there are many kinds of CNC signs out there and many ways to make one yourself.
CNC signmaking may seem complicated, but it's really just a matter of exercising a little creativity and ensuring you have the right tools for the job.
Here we're going to look at various types of CNC signs that you can make today, as well as some helpful hints, tips, and templates to make sure you get the best results.
CNC Signmaking guide: How to Make a Custom CNC Sign
Making a custom CNC sign isn't much different from most other simple CNC projects. While you can always download pre-made templates and customize them to your liking, you may prefer to make your own CNC signs from scratch.
Here are some helpful steps to get you started.
If you're looking for a CNC router: read our CNC router & CNC machine buyer's guide here.
Design Your Sign
It may go without saying, but the first step to CNC sign making is to load up your preferred design software and get to work!
It's always helpful to know where your sign is going to go before you start designing it. That way you can take measurements and make a note of the exact size you'll want your sign to be. This is especially important if you want to make a specifically shaped sign for a crevice or shelf.
Software like IntelliCAD and AutoCAD are ideal for making text-based signs due to their simplicity and compatibility, but just about any CAD software you're familiar with for CNC machining should do the trick. 
For more info, read our guide to the best CNC software.
We also have an article on the best CAD-CAM software.
Once you're happy with the size and shape you want, you can load up your software and let your creative side loose.
Prepare Your Material
Whether you're making a wood or metal CNC sign, you'll need to make sure you have the right kind and size of material for your machine to work with.
Depending on the size and capabilities of your CNC machine, you should have a good idea of how to prepare your material for engraving.
If you're used to using a CNC router already, then this should be an easy step. But if you're still somewhat new, be sure to follow the guidelines outlined with your hardware and prepare the materials as is both safe and necessary.
Double-check Your Settings
Before you turn anything on, make sure your settings are all perfect. There's nothing worse for an artist or creator than wasted material, so you'll want to double-check everything before you get going.
These settings include the design itself, the depth, and your toolpaths, as well as the machine settings to make sure they're suited to the material you've chosen to work with.
Turn it on!
Once you're sure all the settings are correct and you're happy with everything down to the final little details of your design, then you're ready to set your CNC router to work!
Remove and Post-Process
Once your machine is done, you can safely remove your CNC sign and begin the post-processing.
Depending on the kind of sign you make and with which material, this could include sanding, varnishing, polishing, and painting.
Be sure to plan your post-processing ahead of schedule to make sure you don't accidentally do something you shouldn't and ruin your hard work.
Display with Pride
Whether for personal or professional use, at home or at work, you can now hang your completed masterpiece wherever you planned to and enjoy it with the full satisfaction of knowing you've made it yourself.
Types of CNC Signs
From shop signs to garden displays, door hangers to kitchen labels, there are many kinds of signs that take a little bit of finesse to make.
Making CNC signs may often be as simple as knowing the size and the design, but why stop at just one kind?
Here are some of our favorite examples of CNC signs.
Door Hangers
Door hangers have plenty of uses. From toilet markers in bars and restaurants to open and closed signs for shops and cafés.
At home, door markers are a cute way to label rooms in a unique and creative way. Making CNC signs for bedrooms is a great exercise in self-expression while making signs marking bathrooms is helpful for guests when finding their way around.
Using CNC to engrave these signs ensures a unique and fun way of making these hangers. For bedroom markers, making these signs is as simple as designing the files to spell out a name and then customizing it with shapes and markers to indicate a person's interests.
While you could just customize these engraved names afterward with stickers, paint, and the like, you can have a go at preparing these identifying marks directly in your CAD software.
For businesses, the same method can be applied to open/closed signs. Marking them with the logo or watermark of your business is a great way to show off the effort you've put in and ensure your custom-made sign doesn't look too store-bought.
Lawn Signs
Lawn ornaments have been a part of American culture for over a century, and many people like to decorate the front of their homes with signs saying the family name.
You can also use such CNC signs to celebrate special events like birthdays, graduations, and weddings. Once the celebrations have passed, these signs then become a reminder of the good times that can be kept forever as a keepsake.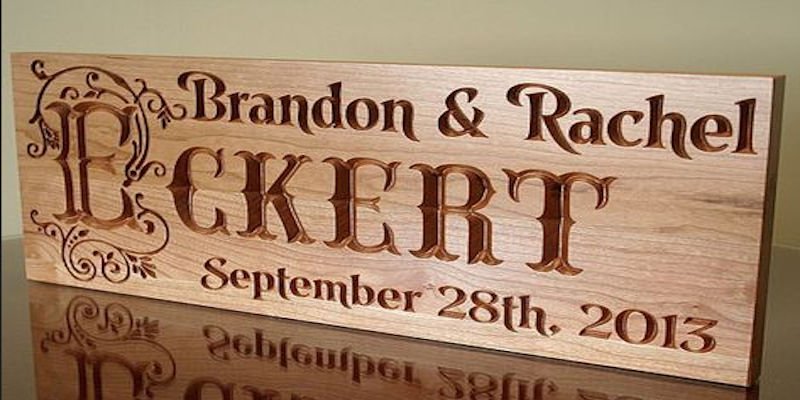 The most fun way to use CNC signs for lawn decoration is for seasonal events. Halloween gravestones for makeshift cemeteries, signs to welcome thanksgiving guests, or even just an engraved wood sign to wish your neighbors a Merry Christmas are all great ways to ring in each special time of year.
Unlike door hangers, there's no real ideal size for lawn decorations. The only requirements to keep in mind are the size of your CNC machine, the materials you have available, and exactly how much is too much.
Though don't blame us if your local homeowners' association doesn't take to a two-story monument to your family name.
Home Decorations
Are you as sick of 'Live, Laugh, Love' as I am? Well, good news! With CNC sign making, you can turn any favorite quote, slogan, saying, or catchphrase into a personalized decoration for your living room, bedroom, or wherever you want!
Liven up your kitchen with a Martha Stewart quote, or make your bedroom a more restful place with a calm mantra. The possibilities of turning any part of your home into an inspirational space are endless.
On a more personal note, you could even make a sign in homage to a passed loved one with one of their favorite expressions or quotes. While shopping around doesn't make this message any less special, making such a forget-me-not yourself lets it carry far more sentimental value than simply buying a custom sign online.
Calendars
Not all signs are purely decorative, some have practical uses that come in very handy. One such sign is a standard calendar.
If you're not sure you can design one yourself, there are plenty of CNC calendar templates online that you can download and engrave today. From these templates, you can make your own changes like marking down special dates like birthdays and anniversaries.
As well as this, you can change the layout of the calendar to have any images or words on the borders or the top as you like, similar to making home decorations.
Of course, a full CNC engraved calendar would take up far too much space, so you'll likely need to engrave each month as its own 'page' so to speak. Though there are some creative moving calendar designs out there to help you save on both materials and effort.
This is unless you opt for something like this Mayan calendar design. While it may not function as a calendar that anyone can read, it certainly makes for a unique CNC sign that's sure to stand out.